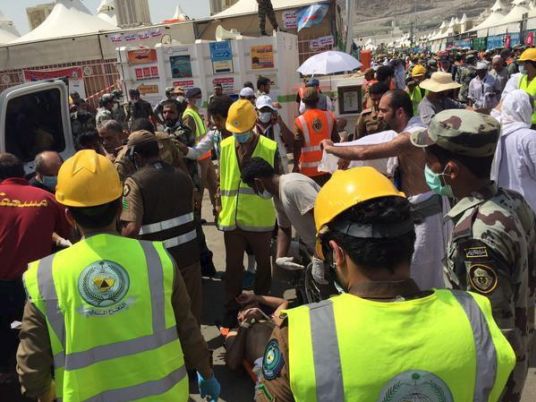 The death toll in a crush at the annual haj pilgrimage outside Mecca rose to 769, Saudi Arabia said on Saturday, as arch-rival Iran said Saudi officials should be tried in an international court for what it called a crime.
The worst disaster to befall the Islamic event in a quarter of a century occurred on Thursday as two large groups of pilgrims arrived together at a crossroads in Mina, a few kilometers outside the holy city.
"The latest statistics up to this hour reveal 769 dead. That is an increase of 52 on the previous figures," Saudi health minister Khalid al-Falih told a news conference.
"Those are the ones who died in various hospitals since the event," he said, adding that 934 people were wounded.
Shi'ite Muslim Iran, which is locked in a series of proxy wars in Arab countries around the Sunni Muslim kingdom, says that at least 136 Iranians are among the dead, sparking protests and outrage in the Islamic Republic on Friday.
Over 300 other Iranians remain unaccounted for, including former ambassador to Lebanon Ghazanfar Roknabadi, Fars news agency reported.
"We will urge international courts and circles to start the trial of the Saudis for their crimes against haj pilgrims," Iran's Prosecutor General Ebrahim Raisi was quoted as saying by student news agency ISNA on Saturday
"This is not incompetence, it's a crime," Raisi told state broadcaster IRIB.
Protecting the visitors to mosques at the holy cities of Mecca and Medina is a key pillar of legitimacy for the Saudi royal family, and the king has the title of "custodian of the two shrines."
Speaking to the country's crown prince Crown Prince Mohammed bin Nayef, top Saudi cleric Abdulaziz Al al-Sheikh said he did not hold authorities responsible for the disaster.
"You are not responsible for what happened. You dealt with the beneficial factors that were in your hands and within your ability. As for the things that humans cannot control, you cannot blamed for them. Fate and destiny are inevitable," Al al-Sheikh, known as the Grand Mufti, said in a televised statement.
Al al-Sheikh also appeared to deflect criticisms of the kingdom from outside as a product of "envy."
"Many are envious of the kingdom for its religion, leadership, economy and the cohesion of its members, and for the great blessings it has experienced, unlike many other countries," he said.