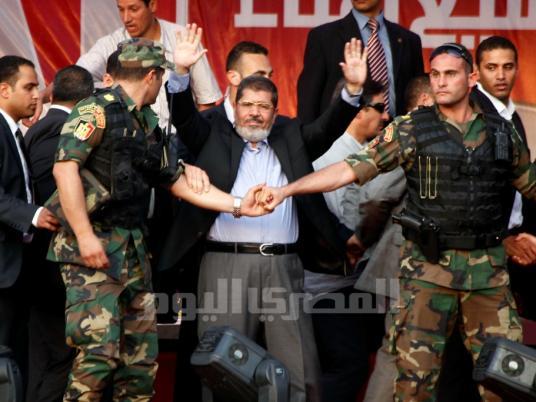 Various Egyptian political figures spoke positively of President Mohamed Morsy's speech at the Non-Alignment Summit in the Iranian capital of Tehran on Thursday.
In his speech, Morsy told the member states that they should support the Syrian revolution against President Bashar al-Assad, who Morsy called a tyrant who has lost legitimacy. He also called for a purely civilian state in Syria, and to support the students of the Freedom and Justice Party in Syria in order for the country to move toward a democratic system and prevent a civil war or sectarian clashes in the future.
The speech caused the Syrian delegation to withdraw from the conference, but was praised at home.
Liberal and former MP Amr Hamzawy said on his Twitter, "Solidarity with the Syrian revolution and pressure on dictators is Egypt's duty."
Engy Hamdy of the April 6 Youth Movement said the speech proved Morsy has a vision shaped by revolutionary demands.
Nader Bakkar, spokesperson of the Salafi Nour Party, said on his Twitter that Morsy should be welcomed like a champion upon his arrival back in Cairo.
Mohamed Abou Hamed, the former parliamentarian who led demonstrations demanding the toppling of Morsy on 24 August, also praised the speech and saluted the president on his Twitter.
Hafez Abu Seada, head of the Egyptian Organization for Human Rights, said the speech dashed any hopes for Iran to lead the region in an alliance with Egypt.
Later in the day, hundreds gathered outside the presidential lounge of Cairo International Airport to welcome Morsy back from his trip. The crowd raised the Egyptian flag and banners with welcoming messages.