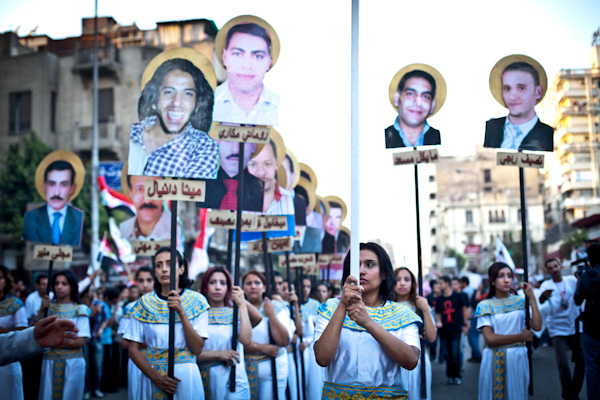 Hundreds of protesters gathered Tuesday evening outside the Maspero state television building on the first anniversary of the bloody clashes that took place between security forces and protesters on 9 October 2011.
Several revolutionary forces and political parties participated in the protest calling for the prosecution of the Supreme Council of Armed Forces' generals, including former head Hussein Tantawi and former military Chief of Staff Sami Anan, as well as Hamdy Badein, the former head of the military police.
The protesters chanted, "National unity against the police slaughtering us," and "Oh, professor Morsy, martyrs' rights are more important than the office."
Mina Daniel's former colleague Hania Mansour said she came to demand retribution for the martyrs through the prosecution of the SCAF generals and the state media for inciting the killing of protesters.
Hassan Fetaih, the coordinator of Ahmed Maher's April 6 Youth Movement front, said he wanted to remind President Mohamed Morsy of the necessity of trying the military council and other killers of martyrs.

Salafi Sheikh Abdel Baset al-Feshn said he participated in commemorating the first anniversary of Maspero massacre to send a message to Morsy that he wanted a fair trial for killers and wanted the Cabinet to take action against Tantawi, Anan and Badein.
There was a similar protest in Alexandria on Tuesday outside the Bibliotheca Alexandrina. The protesters called for retribution, fair trials and purging the judicial institution of corrupt officials.
A number of student movements staged marches at Cairo and Ain Shams universities on the first anniversary of the massacre in which 27 mostly-Coptic protesters were killed.
At Cairo University, a number of students and administration employees walked across the campus, holding pictures of the martyrs, flags, and banners that read, "We will not forget you."
They chanted for those responsible for the incident to be put on trial.
A march started Tuesday afternoon from Shubra, a Cairo district with a high Coptic population, to Maspero to commemorate the anniversary of the violence.
The Coalition of Coptic Egypt and the Union of Maspero Martyrs' Families had announced plans for the march. A statement by the union on Monday said all Egyptians who support the victims' right to justice are invited to attend the peaceful march which, it said, will voice that demand without any sectarian or partisan agenda.
It added that memorial services will be held until 10pm.
On 9 October 2011, at least 27 people were killed when military and security forces violently dispersed a peaceful, Coptic-led march outside the state television building decrying earlier assaults on Coptic churches.