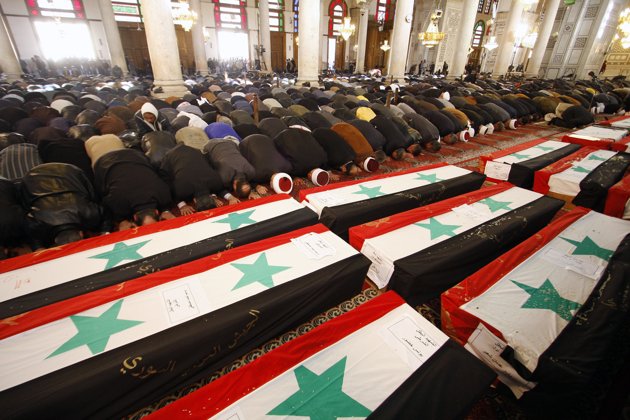 Two civilians were "likely" killed in US-led coalition strikes last year near Raqa, the stronghold in Syria of the Islamic State group, and four others were injured in separate incidents, the Pentagon announced Friday.
US Central Command (CENTCOM), which oversees operations in the Middle East, said the deaths came during four strikes in Syria and one in Iraq, bringing to 16 the total number of civilians the US-led coalition has acknowledged killing in the two countries since operations against IS jihadists began in August 2014.
In a statement, CENTCOM said "the preponderance of evidence" indicated the five separate US strikes in July had "likely resulted in the death of two civilians" and injuries to four more.
Three of the strikes occurred near Raqa, the jihadists' de facto Syrian capital. One was near the Syrian town of Sarmada, and the fifth was near Mosul in Iraq.
The two civilians were assessed as having been killed in separate attacks near Raqa, one on July 4 and the other on July 11. The first hit a truck and trailer, the second a vehicle crossing a bridge.
The Sarmada strike, which injured two civilians on a motorcycle, was against Khorasan Group leader Muhsin al-Fadhli, CENTCOM said. According to the Pentagon, Khorasan is a group of Al-Qaeda veterans alleged to be plotting attacks against the West.
CENTCOM spokesman Colonel Pat Ryder said the United States regretted the loss of life, but said the IS group bore responsibility.
"It's worth mentioning ISIL's culpability as they continue to operate and hide among innocent civilians and populated areas in an attempt to avoid being targeted," Ryder said, using an alternative acronym for the IS group.
He called the ongoing aerial bombardment the "most precise air campaign in history," and noted that since August 8, 2014, the US-led coalition has dropped some 35,000 guided bombs in Iraq and Syria in nearly 9,800 air strikes.
"While we do our best to minimize civilian casualties through our careful targeting process and our use of precise weapons systems, we also operate in a dynamic environment and unfortunately we cannot guarantee zero civilian casualties in an armed conflict such as this one," he said.
The United States has received 120 allegations of civilian casualties as a result of coalition strikes. Ryder said 87 of these were deemed "not credible." Fourteen allegations remain under review.
The Pentagon last week announced the deaths of eight civilians in Iraq and Syria.
Critics claim coalition strikes are killing far more civilians than the United States has acknowledged.
Airwars, a London-based group of independent journalists, published a report in August saying "many hundreds" of civilians had been killed.