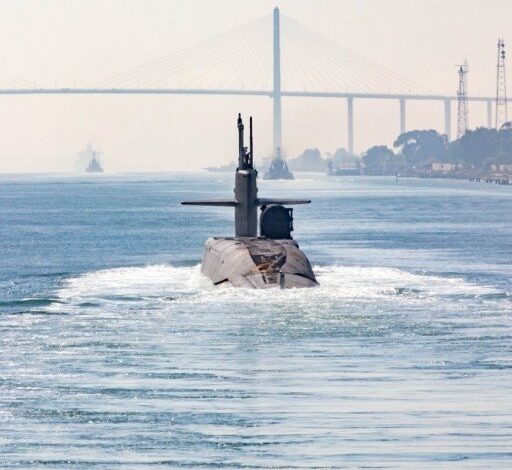 The Pentagon issued an announcement on Sunday evening revealing the deployment of one of its submarines to Middle Eastern waters.
US Central Command announced in a post on X, formerly known as Twitter, saying that an Ohio-class submarine has arrived in the region.
On November 5, 2023, an Ohio-class submarine arrived in the U.S. Central Command area of responsibility. pic.twitter.com/iDgUFp4enp

— U.S. Central Command (@CENTCOM) November 5, 2023
Israel's The Jerusalem Post reported that "the identity of the submarine was not disclosed and it is not known whether it is one of the four submarines that carry Tomahawk cruise missiles or of the 14 submarines that carry the Trident-II ballistic missiles."
The submarine joins the presence of the US force in the region since the outbreak of the Israel-Hamas war with two aircraft carriers.
The Pentagon announced late October that it was sending the USS Dwight D. Eisenhower (CVN-69), a nuclear-powered aircraft carrier nicknamed "Ike", to the Middle East in response to an increasing number of attacks on US facilities.
The US claimed that the attacks were by Iranian-backed groups as tensions escalate amid the conflict between Hamas and Iran on the one hand and Israel on the other.
US Secretary of Defense Lloyd Austin said in a statement that this decision comes following recent escalation by Iran and its proxy forces throughout the Middle East, and also comes to strengthen the position of the Department of Defense in the region.
Much like the aircraft carrier Ford, the Eisenhower is accompanied by other ships such as the guided-missile cruiser Philippine Sea and the guided-missile destroyers Greeley and Mason.
Sources in the White House expressed the intention of the US to support Israel with warships and an aircraft carrier in its war on the Gaza Strip.
US President Joe Biden also instructed providing additional support to Israel.