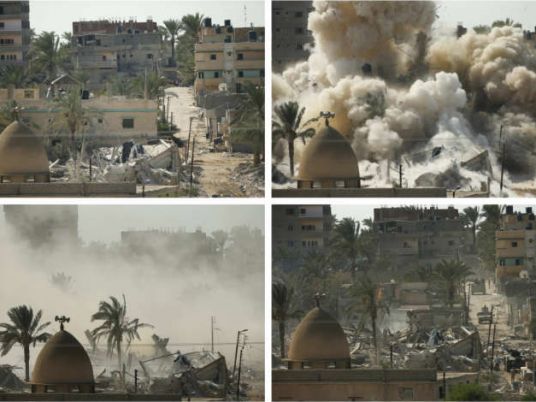 Egypt has the right to use a Gaza buffer zone to boost its security, but should also be concerned about the impact on local communities, the United States said Thursday.
"Certainly we believe that Egypt has the right to take steps to maintain their own security. And we understand the threat that they are facing from the Sinai," State Department spokeswoman Jen Psaki said.
"We also continue to encourage them to take into account those that would be internally displaced by this," she added.
Egypt began demolishing houses along its border with Gaza on Wednesday to set up a buffer zone to prevent militants sneaking into the Sinai desert, and to curb arms smuggling following a wave of deadly attacks.
The move, which will see about 800 homes razed, comes after a suicide bomber killed 30 soldiers on the Sinai Peninsula, which borders the Palestinian territory, last Friday.
Washington has long insisted that Egypt is a key ally in the regional fight against jihadists.
Despite cutting off some aid to Cairo last year amid concerns about human rights abuses by the former military leaders, it has now released Apache helicopters specifically to be used to help secure the Sinai.
"They're working through the plan and we're continuing to support their efforts to take steps to defend their own borders," Psaki told reporters.
Jihadist groups based in the Sinai have killed scores of police officers and soldiers since the ousting in 2013 of elected Islamist president Mohamed Morsy.
They have said their campaign is in revenge for a police crackdown on the deposed president's supporters that has left more than 1,400 people dead.