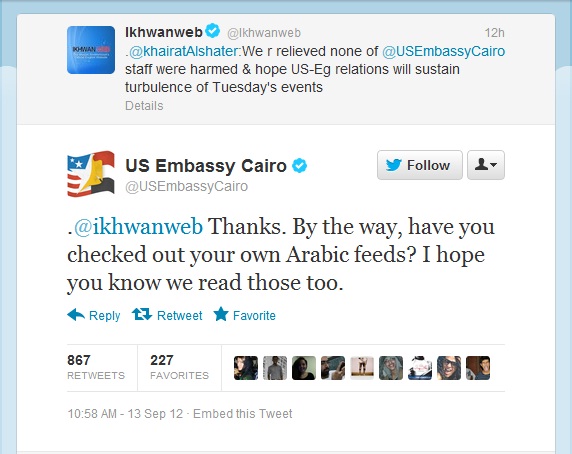 The US Embassy in Cairo sent a tweet earlier today which appeared to accuse the Muslim Brotherhood of espousing differing opinions regarding the recent attacks on embassies in its English and Arabic-language social media. The Brotherhood's English language account, @Ikhwanweb, reacted by suggesting that the insinuation was a product of "stress."
This comes after violent protests targeting US embassies in the region over a film involving an allegedly insulting depiction of the Prophet Mohamed. Demonstrations at the embassy have been ongoing in Cairo since Tuesday.
The Brotherhood's English-language account @Ikhwanweb quoted Brotherhood leader Khairat al-Shater, expressing relief that "none of the US Embassy in Cairo staff was harmed" and hoping the Egypt-American relations "will sustain turbulence of Tuesday's events." The US embassy account @USEmbassyCairo thanked them, adding, "By the way, have you checked out your own Arabic feeds? I hope you know we read those too." @Ikhwanweb replied, after a few minutes, "We understand you're under a lot of stress, but it will be more helpful if you point out exactly the Arabic feed of concern."
The US Embassy account has not taken the debate any further as yet. But Egypt Indepedent has examined the Arabic-language Twitter accounts of both the Muslim Brotherhood (@ikhwanonline) and their political branch, the Freedom and Justice Party (@FJparty).
@ikhwanonline recently tweeted a link to an article on their website entitled, "Egyptians revolt to defend the prophet in front of the American embassy." The article says that, "Some of the revolting youth entered the American embassy and took down the American flag then set it on fire in front of everyone, raising a flag that says 'there is no God but Allah' in its place," but does not condemn the break-in. There appears to be no equivalent statement on the Brotherhood's English-language Ikhwanweb website.
Both @FJparty and @ikhwanonline have condemned violent protests in general terms in other tweets and in other published statements. However, neither Arabic-language feed has carried any expressions of sympathy or concern towards the staff at the embassy, of the sort featured in the @Ikhwanweb English-language tweet today.
But one account operator for @FJparty expressed opposition to the embassy protests. The account described them as "the real 24 August demonstrations," in reference to anti-Brotherhood protests on that date last month. The official FJP Facebook page later posted a statement saying that this tweet had accidentally been posted to the FJP feed, instead of the operator's personal account.
"In democracies, elected leaders play to their conservative base. Pretty basic fact," tweeted analyst Shadi Hamid.
"I have no doubts about the MB double-speak. But the US accusing anybody of hypocrisy is a bit rich!" tweeted @Ehab66, targeting both parties in the spat.