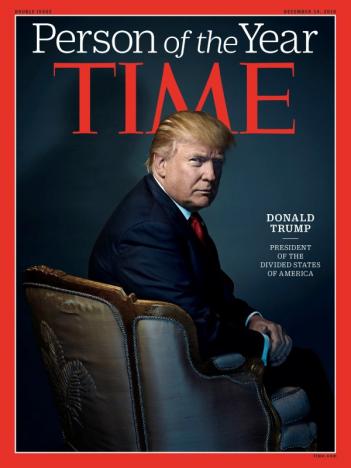 President Donald Trump said on Thursday he wants to ensure the US nuclear arsenal is at the "top of the pack," saying the United States has fallen behind in its weapons capacity.
In a Reuters interview, Trump also said China could solve the national security challenge posed by North Korea "very easily if they want to," ratcheting up pressure on Beijing to exert more influence to rein in Pyongyang's increasingly bellicose actions.
Trump also expressed support for the European Union as a governing body, saying "I'm totally in favor of it," and for the first time as president expressed a preference for a two-state solution to the Israeli-Palestinian conflict, but said he would be satisfied with whatever makes the two sides happy.
Trump also predicted his efforts to pressure NATO allies to pay more for their own defense and ease the burden on the US budget would reap dividends. "They owe a lot of money," he said.
In his first comments about the US nuclear arsenal since taking office on Jan. 20, Trump was asked about a December tweet in which he said the United States must greatly strengthen and expand its nuclear capacity "until such time as the world comes to its senses regarding nukes."
Trump said in the interview he would like to see a world with no nuclear weapons but expressed concern that the United States has "fallen behind on nuclear weapon capacity."
"I am the first one that would like to see … nobody have nukes, but we're never going to fall behind any country even if it's a friendly country, we're never going to fall behind on nuclear power.
"It would be wonderful, a dream would be that no country would have nukes, but if countries are going to have nukes, we're going to be at the top of the pack," Trump said.
Russia has 7,000 warheads and the United States, 6,800, according to the Ploughshares Fund, an anti-nuclear group.
"Russia and the United States have far more weapons than is necessary to deter nuclear attack by the other or by another nuclear-armed country," said Daryl Kimball, executive director of the independent Arms Control Association non-profit group.
The new strategic arms limitation treaty, known as New START, between the United States and Russia requires that by February 5, 2018, both countries must limit their arsenals of strategic nuclear weapons to equal levels for 10 years.
leftright
7/7leftright
U.S. President Donald Trump pauses during an an interview with Reuters in the Oval Office at the White House in Washington, U.S., February 23, 2017. REUTERS/Jonathan Ernst
The treaty permits both countries to have no more than 800 deployed and non-deployed land-based intercontinental and submarine-launched ballistic missile launchers and heavy bombers equipped to carry nuclear weapons, and contains equal limits on other nuclear weapons.
Analysts have questioned whether Trump wants to abrogate New START or would begin deploying other warheads.
In the interview, Trump called New START "a one-sided deal."
"Just another bad deal that the country made, whether it's START, whether it's the Iran deal … We're going to start making good deals," he said.
"We're Very Angry"
The United States is in the midst of a $1 trillion, 30-year modernization of its aging ballistic missile submarines, bombers and land-based missiles.
Trump also complained that the Russian deployment of a ground-based cruise missile is in violation of a 1987 treaty that bans land-based American and Russian intermediate-range missiles.
"To me it's a big deal," said Trump, who has held out the possibility of warmer U.S. relations with Russia.
Asked if he would raise the issue with Putin, Trump said he would do so "if and when we meet." He said he had no meetings scheduled as of yet with Putin.
Speaking from behind his desk in the Oval Office, Trump expressed concern about North Korea's ballistic missile tests and said accelerating a missile defense system for US allies Japan and South Korea was among many options available.
"There's talks of a lot more than that," Trump said, when asked about the missile defense system. "We'll see what happens. But it's a very dangerous situation, and China can end it very quickly in my opinion."
China has made clear that it opposes North Korea's nuclear and missile programs and has repeatedly called for denuclearization of the Korean peninsula and a return to negotiations between Pyongyang and world powers.
But efforts to change Pyongyang's behavior through sanctions have historically failed, largely because of China's fear that severe measures could trigger a collapse of the North Korean state and send refugees streaming across their border.
Trump's meeting with Japanese Prime Minister Shinzo Abe earlier this month in Florida was interrupted by a ballistic missile launch by North Korea.
Trump did not completely rule out possibly meeting North Korean leader Kim Jong Un at some point in the future under certain circumstances but suggested it might be too late.
"It's very late. We're very angry at what he's done, and frankly this should have been taken care of during the Obama administration," he said.
According to Japanese news reports, the Japanese government plans to start debate over the deployment of a U.S. missile defense system known as the Terminal High Altitude Area Defense, or THAAD, and the land-based Aegis Ashore missile defense system to improve its capability to counter North Korean ballistic missiles.
The strength of Trump's remarks in favor of the EU took some Brussels officials by surprise after his support for Britain's vote last summer to exit from the EU.
"I'm totally in favor of it," Trump said of the EU. "I think it's wonderful. If they're happy, I'm in favor of it."
Statements by him and others in his administration have suggested to Europeans that he sees little value in the Union as such, which Trump last month called a "vehicle for Germany."
(Additional reporting by Jeff Mason, Roberta Rampton, Emily Stephenson, John Walcott, Matt Spetalnick, Arshad Mohammed and David Brunnstrom in Washington and Alastair Macdonald in Brussels; editing by Ross Colvin