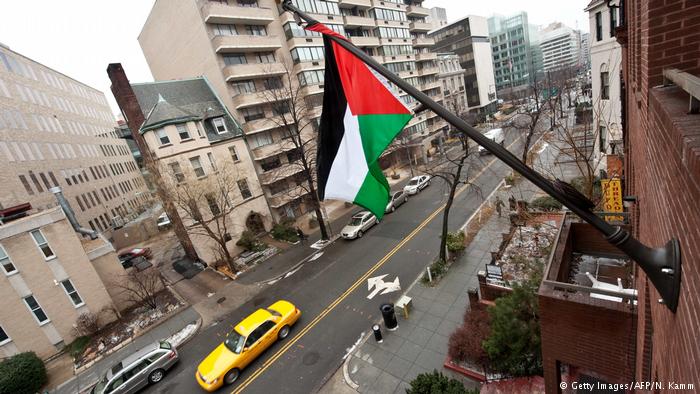 The PLO harshly criticized the Trump administration's decision to shutter its de-facto embassy in Washington. The move follows massive cuts in US aid to Palestinians as Trump tries to get them to the negotiation table.
The United States has decided to close the Palestine Liberation Organization's (PLO) mission in Washington, the organization announced on Monday.
PLO secretary-general Saeb Erekat announced the decision in a statement, calling it a "dangerous escalation."
"This is yet another affirmation of the Trump administration's policy to collectively punish the Palestinian people, including by cutting financial support for humanitarian services including health and education."
The decision to shutter the PLO's de-facto embassy comes after the leaders in the Palestinian Authority (PA) cut off contact with the US government after President Donald Trump recognized Jerusalem as the capital of Israel in December last year.
Since then, the Trump administration has been trying to get Palestinian negotiators back to the table by cutting over $200 million (€173 million) in bilateral aid to the Palestinians. The US has also pulled its support for the UN agency for Palestinian refugee agency.
The PLO is an umbrella group that was created in 1964 to represent various Palestinian factions seeking self-determination. The PLO also runs the PA, the semi-autonomous, interim government that manages certain areas of the Palestinian territories.
PLO pushing probe against Israel
The move also comes amid US concerns over attempts by Palestinian officials to have Israel investigated for war crimes at the International Criminal Court (ICC) in The Hague.
Erekat said that Monday's decision to close the PLO's office in Washington shows the lengths that the Trump administration is willing to go to "in order to protect Israeli crimes" against Palestinians.
He added that "the rights of the Palestinian people are not for sale."
The US is also preparing on Monday to adopt an aggressive stance against the ICC should they proceed with an investigation into alleged war crimes committed by the US in Afghanistan as well as the possible probe against Israel.
Trump's national security adviser, John Bolton, is due to announce the move later on Monday, including threatening sanctions against ICC judges.