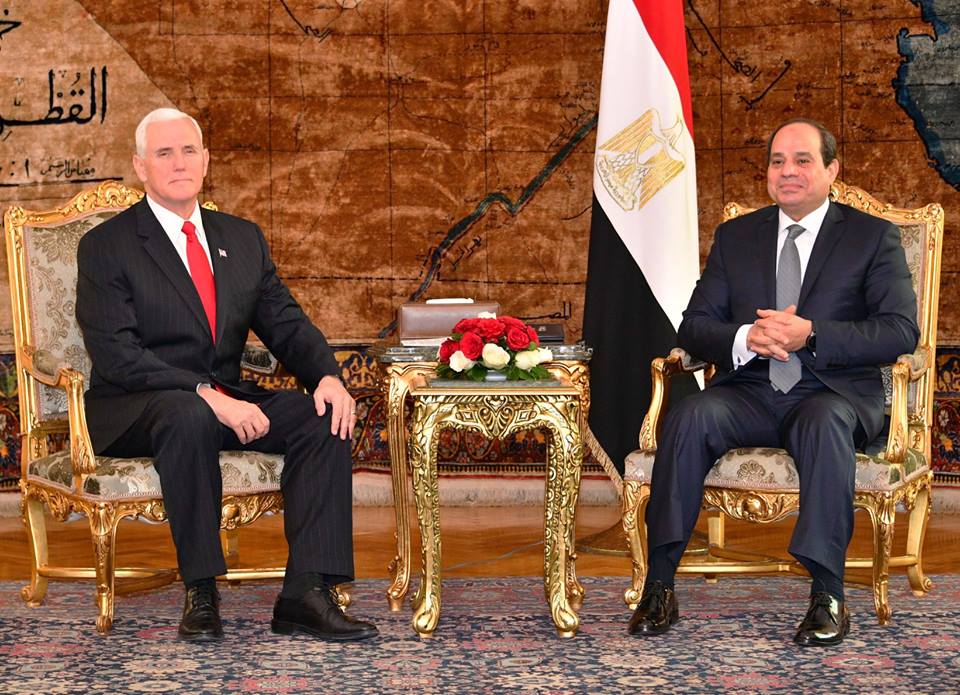 President Abdel Fattah al-Sisi met with US Vice President Mike Pence during an official visit to Egypt on Saturday, part of a three-country tour that includes stops in Jordan and Israel.
During the visit, Pence told Sisi that the US would support a two-state solution for Israelis and Palestinians if the two sides agree to such a deal.
According to a statement released by Egypt's presidency, Sisi reassured Pence that Egypt insists on recognizing a Palestinian state within the 1967 borders with Jerusalem as its capital.
The Egyptian president further highlighted that only negotiations based on a two-state solution could put an end to the ongoing conflict between Israelis and Palestinians.
In December 2017, US President Donald Trump declared Jerusalem as Israel's capital, a move that stirred controversy among his western allies as well as across the Arab world.
Following Trump's decision, the spokesperson for Egypt's Foreign Ministry Ahmed Abu Zeid called upon the UN Security Council to convene an urgent meeting to discuss the matter and to hear a statement from the UN Secretary-General, Antonio Guterres.
Following Trump's Jerusalem announcement, protests erupted across the West Bank and the Gaza strip, while the Islamist group Hamas urged Palestinians to launch a fresh uprising against Israel.
The status of Jerusalem is one of the thorniest barriers to a lasting Israeli-Palestinian peace. Its eastern sector was captured by Israel in a 1967 war and annexed in a move which was not recognized by the international community.
Palestinians claim East Jerusalem as the capital of an independent state they seek.