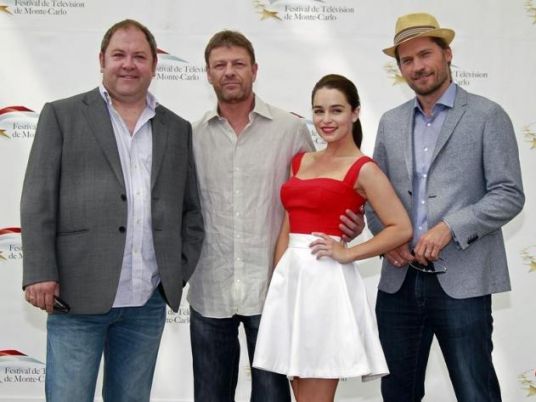 HBO shows "Game of Thrones" and "Veep" won the top prizes at the Emmy Awards for the first time on Sunday, bringing a breath of fresh air to television's biggest night on an evening that also made history for black actresses.
Jon Hamm finally snared an Emmy for his lead role as Don Draper in AMC's 1960s advertising drama "Mad Men," winning a standing ovation from the audience.
"There's been a terrible mistake clearly," said Hamm, who clambered onto the stage rather than walking up the stairs. "It's incredible and impossible for me to be standing here."
Hamm said playing a character like the secretive Draper for so long had been both a blessing and a curse.
"It doesn't come without a cost and a lot of mental and emotional baggage that gets torn through and weighs on you after a while," he told reporters backstage.
But "Mad Men," a four-time best drama series winner, was shut out of all the other categories and had to be content with just Hamm's Emmy after closing its final season earlier this year.
Instead, the 18,000 voters of the Television Academy threw their support behind the HBO medieval fantasy series "Game of Thrones," which was the night's biggest winner with 12 Emmys.
The top Emmy prize had always eluded the series, which is based on George R.R. Martin's books about blood-thirsty nobles and warring kingdoms, despite its 20 million viewers in the United States. On Sunday, it also won awards for writing, directing and for supporting actor Peter Dinklage.
Backstage, co-creator Dan Weiss said the "Thrones" team had known it would take a while to win over the Television Academy.
"We knew there'd be some resistance to the idea that a show set in this genre, as opposed to crime shows or Westerns, could be a serious drama," he said.
"(But) we knew if we did our jobs and were fortunate to be blessed with the cast and crew that we have, we'd get there eventually."
Diversity rules
HBO's "Veep" ended the five-year Emmy reign of ABC's "Modern Family" as best comedy series. Julia Louis-Dreyfus won best comedy actress for the fourth consecutive year for her role as the egotistical President Selina Meyer in the series, while Tony Hale, who plays her bag man, was again named comedy supporting actor.
"I think we just get better with every season we do, but also she became president so that gave us lots of challenges," "Veep" creator Armando Ianucci told reporters about the show's rise to the top. "Everything Selina does now has terrible international impact, so it made everyone raise their game."
On a milestone night for diversity, Viola Davis became the first African-American to win a drama lead actress Emmy for her role as a tough criminal defense lawyer in ABC's "How to Get Away With Murder."
"The only thing that separates women of color from anyone else is opportunity," Davis said in an emotional acceptance speech. "You cannot win an Emmy for roles that are simply not there."
Davis thanked all the writers and producers "who have redefined what it means to be beautiful, to be sexy, to be a leading woman, to be black."
Two other black actresses, Uzo Aduba ("Orange is the New Black") and Regina King ("American Crime"), were also among Sunday's winners, while Jill Soloway joined the small club of women to win a directing Emmy, for the transgender comedy "Transparent."
In the first Emmys for Amazon.com's foray into original content, "Transparent" also won four other Emmys, including lead actor for Jeffrey Tambor.
Tambor, 71, won for his role as a father who transitions to a woman, and he dedicated the award – his first Emmy – to the transgender community.
"Thank you for your patience, thank you for your courage, thank you for your stories, thank you for your inspiration, thank you for letting us be part of the change," he said.
"Inside Amy Schumer," the no-holds-barred female comedy which is written and directed by Schumer, proved a popular first-time winner in the variety sketch series category.
But Schumer, the hottest new talent in comedy, could not dislodge perennial Emmy favorite "The Daily Show with Jon Stewart," which won three Emmys for best variety series, writing and directing.