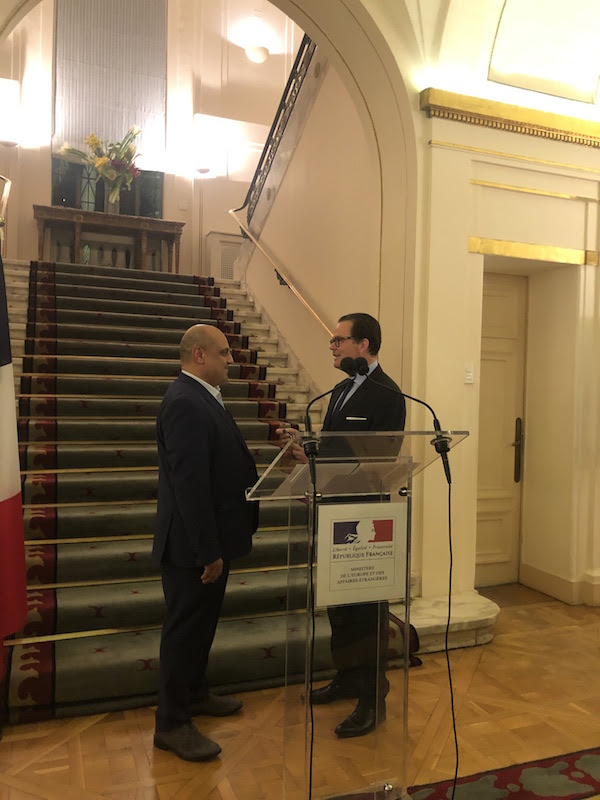 French Ambassador to Egypt Stephane Romatet granted Egyptian theater director and playwright Ahmed El Attar a Knight of the Order of Arts and Letters award at a ceremony held April 14 at the French Embassy in Cairo, a press release by Orient Productions read.
Romatet called Attar "the man of the theater."
The award honors Attar's considerable contributions that have enriched the theatrical industry as well as his devoted efforts to enhancing cultural ties between Egypt and France.
Attar referred to the significant role theater has played in his life on both personal and vocational levels.
"Theater has been my home since I entered the theater of the American University in Cairo when I was eight years old." Attar also indicated that theater has significantly helped him through tough moments and that it has become part of his identity.
"I have given my life to theater and in return it has allowed me to be recorded in the history of arts," he added.
Attar was selected as a Chevening scholar and as a Clore Leadership program alumni in the UK.  He previously joined the National Strategies Program from 2014-2015 in the United States.
Most importantly, Attar is the founder and General Manager of Studio Emad Eddin, an artistic platform that provides independent artists with training and rehearsals spaces.
Attar is also the founder and artistic director of Orient Productions, the Temple Independent Theatre Company and the D-CAF (Downtown Contemporary Arts Festival).
The award originally spelled "Ordre des Arts et des Lettres" was established by the French Minister of Culture in 1957. It endorses achievements within the art sector, including its varied fields.