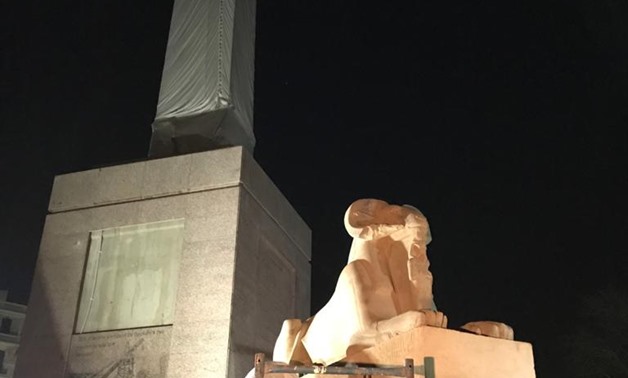 Egypt's Ministry of Tourism and Antiquities has lifted the curtain on four sphinxes in downtown Cairo's Tahrir Square, all of which were relocated from Luxor's Karnak Temple.
The sphinxes are visible to the public and were revealed in preparation for the final arrangements of the royal procession that will transfer 22 mummies of ancient Egypt to their new home in Fustat on April 3.
An earlier statement issued by the ministry explained that the sphinxes had undergone a complete restoration before the transfer.
Secretary-General of the Supreme Council of Antiquities Mustafa Waziri said that the sphinxes and their bases are now located beside the recently restored and erected obelisk in Tahrir Square, as part of the square's development project.
He added that the sphinxes were originally relocated as part of the Tahrir Square development project, which is funded by the Ministry of Housing, Utilities, and Urban Communities in coordination with the Cairo Governorate and the Ministry of Tourism and Antiquities.
Transportation was carried out by the Arab Contractors company under the supervision of a team of restorers and archaeologists from the Supreme Council of Antiquities, the statement added.