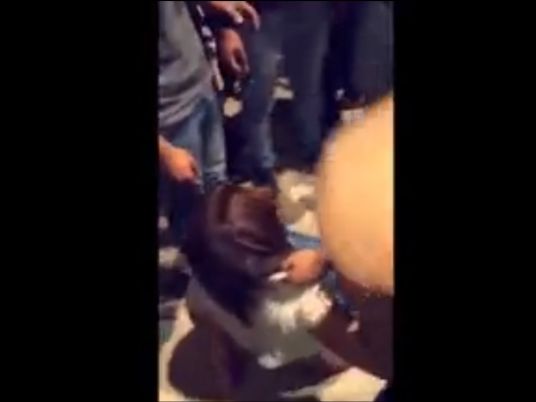 A video of an effeminate man being beaten and taunted on Gamat al-Dawal Street in Mohandiseen has gone viral on Facebook.
"Forget gay rights, and let's discuss basic human rights which clearly don't even exist in this video," writes Farah Hamouda, who wrote a statement attached to the video posted on Ahmad Sanad's Facebook.
Hamouda says the man, who was wearing tight jeans and had long, shoulder-length hair, was attacked by a group of young men while walking down Gamat al-Dawal Street after they suspected he was gay. After being beaten, the video shows the man trying to call a cab to stop for him, but it continues and the man is then pulled back into the group and slapped in the face by one of the men.
"Onlookers would also ignore his helplessness, as merely due to him being gay had apparently diminished completely his rights as a human," Hamouda wrote.
The man then falls to the ground as he pleas for them to stop and the small crowd of men cheers at his attackers.
"If those who attacked a dog were punished and imprisoned, what is it that allows the abuse of a human to be accepted in our society?" Hamouda asks.
Commenters asked Sanad, who recorded and posted the video, why he didn't try to help the man. "I did," he says. "And sorry to say this but there was more than 30 people."
Sanad added that with his ripped jeans, he was afraid he too would have been targeted by the crowd. "I did what I could, which is making this go viral for people to see it, share it and talk about it and for him to get his rights," he argued.
"I can't believe that some people actually think that what they did was right and are using religion to support it," says one commenter, Nahla Hatem El Khabiry. "What kind of religion preaches that you should abuse others just because they think differently or because they don't follow the same thing?"
While many of the commenters condemned what would be described as a hate crime, some praised the crowd for 'correcting' the young man. "Actually, they did the right thing, I would've done much more to him 'or her', " argues one commenter, Rami Mokhtar, adding that sharing the video will be a deterrent for other men not to act feminine.
"By the way Sanad," says another commenter, Hassan M Hassan, "In my opinion, that guy's gay and they should beat the [expletive]."
Despite not being explicitly illegal, homosexuality is a jailable offense in socially conservative Egypt as courts prosecute it under laws penalizing prostitution and "debauchery".
A new push by the new military-backed government has raided bathhouses allegedly frequented by gay men as well as private homes where men gather.