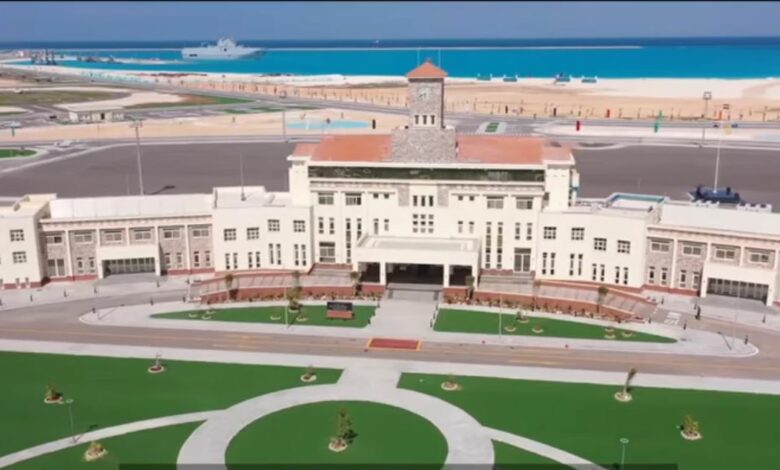 Egyptian President Abdel Fattah al-Sisi on Saturday inaugurated the third of July Military Base in the Gargoub area on the northwestern coast.
Immediately after the opening, Sisi witnessed the "Qadir 2021" maneuver at the base in the presence of Sheikh Mohamed bin Zayed, Crown Prince of Abu Dhabi, and Mohamed al-Manfi, Chairman of the Libyan Presidential Council.
It is the latest of series of huge military bases Egypt has opened, namely the Mohamed Naguib Base in al-Alamein, and the Berenice Military Base on the southern borders, in addition to other military bases that have not yet been announced.
Egyptian presidential spokesperson Bassam Rady said that the Third of July Military Base is the latest Egyptian military base on the Mediterranean Sea, and is specialized in securing the country within the northern and western strategic direction.
The base is also concerned with securing sea transport lines and maintaining maritime security by using combat groups from surface units, submarines and air effort, he explained.
The Third of July Military Base also represents a new addition to the Egyptian naval bases system, as part of the comprehensive development plan for the naval forces so that they are fulcrums and starting centers for the logistical support of the Egyptian forces in the Red Sea and Mediterranean Sea to confront any challenges and risks such as smuggling and illegal immigration.
The Commander of the Egyptian Naval Forces Vice Admiral Ahmed Khaled on Saturday said this new base send forward a message of peace and development to the region.
"We celebrate today the addition of a 'new fortress' to our existing great ones and a new capability to be added to our growing capabilities as part of a program aimed at fully modernizing maritime forces within the strategic vision of the political leadership of Egypt," Khaled said.
This strategic vision prioritizes the protection of the homeland against terrorism and extremism, he added.
Khaled spoke of the challenging mission of developing the naval forces, noting the accomplishments already achieved thanks to continuous follow ups and the strong support the Navy has received.
The Egyptian flag was raised over 47 new naval units, he boasted, and said that this is a great step forward and a strong addition to the Navy.
The newly inaugurated base includes two FREMM Bergamini frigates, an Egyptian Gowind-class frigate, a 209 submarine and 15 motorboats of different types, he said.
He highlighted the strategic position of the naval base, which occupies an area of 10 million square meters.
Its location on the western coast of the Mediterranean clearly signals the Egyptian state's commitment to safeguarding the Suez Canal, protecting maritime security, defending freedom of navigation, securing global shipping routes and combating illegal migration and smuggling operations, he went on to say.
The Navy Commander said that base will help in conducting diverse operational, training and logistics missions, in addition to implementing joint drills with friendly countries.