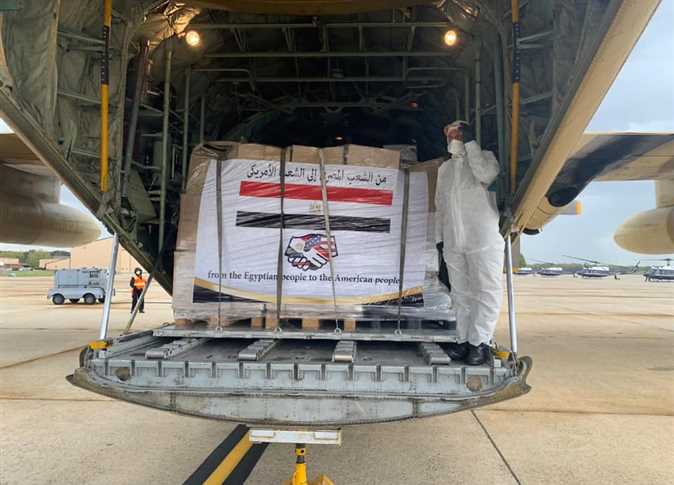 US ambassador in Cairo Jonathan Cohen on Tuesday thanked the government and people of Egypt for contributing medical supplies that will help the US confront the COVID-19 crisis.
"At this difficult time, a generous donation like the one you just made is a great symbol of our solidarity and the value you place in our strategic partnership. Again on behalf of a grateful nation thank you," Cohen said.
https://www.facebook.com/USEmbassyCairo/videos/2561292964138646/
Egyptian President Abdel Fattah al-Sisi on Tuesday ordered medical aid be delivered to the US, as part of Egypt's plan of support friendly countries and within the broader framework of historical ties between both nations.
https://www.facebook.com/Egy.Pres.Spokesman/videos/1453978384783187/
The General Command of the Armed Forces prepared a military plane loaded with large quantities of medical aid and protective suits.
This aid aims to ease the US's burden in light of the crisis it faces through alleviating the nation's acute shortage of medicine, medical supplies, and protective tools.
Though this assistance, Egypt continues its role of aiding friendly countries in times of adversity and crisis.
Earlier this month, Egyptian presidential spokesperson Bassam Rady announced that President Abdel Fattah al-Sisi sent two military planes to Italy with medical supplies to provide aid.
Minister of Health and Population Hala Zayed also arrived in Italy on April 4 upon President Abdel Sisi's orders.
According to Rady, this move comes out of Egypt's plan of solidarity with friendly countries.
Following President Sisi's directives, the armed forces loaded two military aircraft with medical supplies, protective suits and disinfection materials.