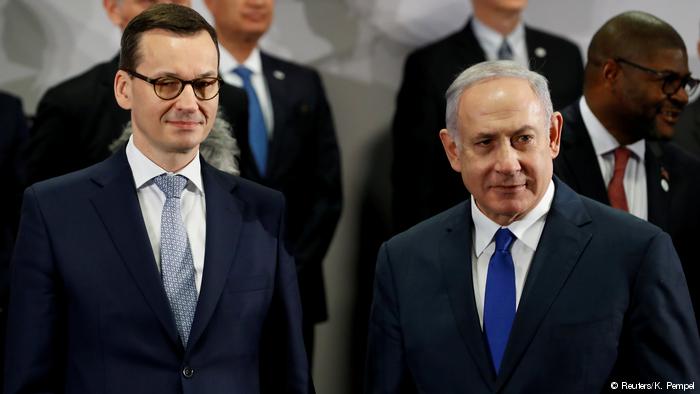 (CNN)–The Visegrad summit of central European leaders in Israel has been canceled after Israeli officials sparked outrage by accusing Poland of complicity during the Holocaust.
Poland pulled out of the summit on Monday in protest over remarks made by acting Israeli Foreign Minister Yisrael Katz, who said Sunday that Poles had "collaborated with the Nazis" during World War II and "suckle anti-Semitism with their mother's milk."
Katz's remarks came after Israeli Prime Minister Benjamin Netanyahu, in a conversation with Israeli reporters last week at the end of a two-day visit to Warsaw, said that Poles had cooperated with the Nazis during the Holocaust.
On Monday, Polish Prime Minister Mateusz Morawiecki described Katz's remarks as "racist and unacceptable," according to Reuters. "Not only can we not accept such racist comments, but with all our strength we want to stress that we will fight for historical truth, for the honor of Poles," he told reporters.
The cancellation of the summit was a setback for Netanyahu, who was due to host the first meeting of the Visegrad nations – Poland, Hungary, the Czech Republic and Slovakia – outside Europe.
The Visegrad group was formed in the 1990s to bolster military, economic and cultural ties between the four countries as they emerged from decades as satellite states of the Soviet Union.
The summit was seen as a further sign of close ties between Netanyahu and leaders of central European countries – many of whom have voiced strong international support for Israel and hinted they would like to follow the lead of the United States and move their embassies from Tel Aviv to Jerusalem.
Israel's foreign affairs spokesman said Monday that the leaders of Hungary, the Czech Republic and Slovakia would still visit Jerusalem and hold meetings with Netanyahu, but since Morawiecki would not be attending, it could not be considered a full Visegrad meeting.
It is not the first time Israel and Poland have clashed over the Holocaust. In 2018, the Polish government introduced legislation to ban terms such as "Polish death camps" in relation to Auschwitz and other such camps located in what was then Nazi-occupied Poland. The bill also made it illegal to accuse the nation of complicity in crimes committed by Nazi Germany.
Israel was vociferous in its criticism of the bill, accusing Poland of trying to rewrite history.
Poland eventually watered down the legislation and removed the threat of jail terms for those who accused the country of complicity.
While historians have reached consensus that certain Polish individuals and groups did collaborate with the Nazi occupiers, recent Polish governments have sought to challenge that narrative.
Around three million Polish Jews and 1.9 million non-Jewish citizens of Poland were killed during the Holocaust, according to the United States Holocaust Memorial Museum.