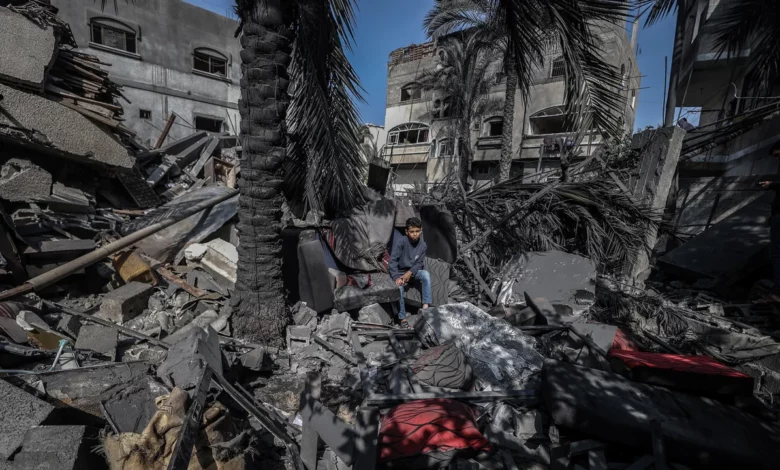 Gaza City, Gaza
CNN
 —  Journalists come, take pictures and go home!" shouted Bilal Nabhan, his voice hoarse, his eyes bloodshot. "They come, take pictures and go home."
Nabhan was sitting under a tree next to the rubble of the four-story apartment that once was his home in the Jabalya refugee camp in northern Gaza, hit by Israeli jets just five hours before Saturday night's ceasefire ended five days of Israeli airstrikes on Gaza and Islamic Jihad rockets towards Israel.
I first noticed Nabhan when relatives were trying to console him on top of the rubble that once contained his home. Nabhan was a day worker, every day venturing out to earn enough money to feed his wife and four children.
His relative, Husam, echoed the same frustration with journalists. "What we need is someone to show us some mercy," he told me.
This unhappy land has settled into a grim routine. Three times in the last three years there have been flare-ups between militants in Gaza and Israel. This latest was the 15th of its kind since Israeli troops and settlers pulled out of Gaza in mid-2005.
Yet again, Egyptian mediators managed to wring a ceasefire understanding to restore – temporarily – relative quiet.
Gaza wasted no time getting back into the rhythm of daily life. The morning after the ceasefire went into effect, the markets were open again. The day after, schools were back in session.
After five days of air strikes and missile attacks, nothing fundamentally changed.
The residents of Gaza are still "living in a can of sardines," as someone told me long ago.
Israel now allows around 18,000 Gazan workers into Israel. But other than that, access into Israel or Egypt is tightly controlled.
Long ago, a sense of resignation took root, that ordinary people have no control over or say in the course of events. And that feeling has only deepened.
"Political leaders must understand: This war is pointless," Gaza City resident Salah Al-Ajouli told me after his house was damaged by gunfire. "Generation after generation, killing one another, there is no end to this."
Those words were spoken not now, but rather nineteen years ago. And, indeed, it seems there is no end to it.
The day after the latest ceasefire, Mussalim, a butcher in Gaza City's main market, put it this way: "This conflict will continue until Judgement Day."
There is no meaningful attempt underway to resolve the conflict between Israel and the Palestinians. There is no longer a so-called "Middle East peace process" and all the fanfare that went with it. There are no negotiators shuttling back and forth between the region's capitals to iron out a lasting and just peace.
As the Israeli journalist Gideon Levy wrote in the daily Ha'aretz the day after the ceasefire started, "the appalling banality of this latest war makes it so dangerous… Rain in the winter and war in the summer. A war each year, with no cause, with nothing to gain, with no results, no winners and no losers, just periodic bloodshed."
How much longer can this cycle go on?
The world has largely turned its back on the conflict. During the 1990's, it was CNN's top story. As a young producer and later correspondent based first in Amman then in Cairo, I was a regular traveler to Israel, Gaza and the West Bank. Since then, the war on terror, the war in Iraq, ISIS, and now Ukraine have distracted us.
Now I come once a year for the annual flare-up between Gaza militants and Israel. The flare-up lasts a few days, maybe a week. I cover it. I leave.
Bilal Nabhan was right. We come. We take pictures. We leave.