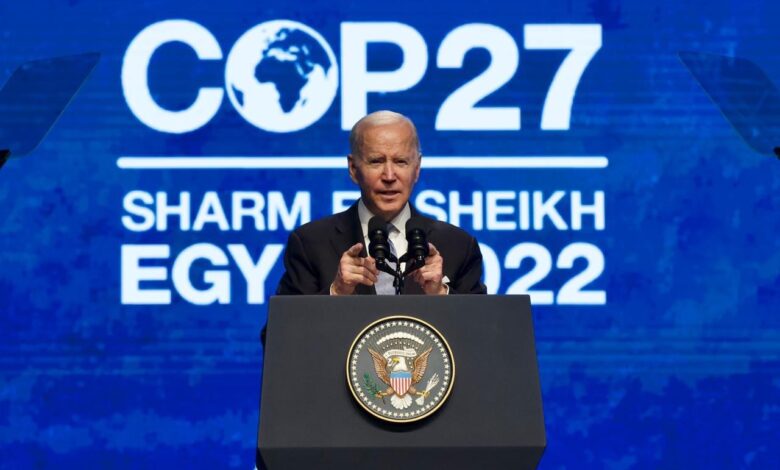 US President Joe Biden visited Sharm el-Sheikh, on Friday, where Egypt is hosting the COP27 climate conference, and was received by the Egyptian Minister of Planning, Hala al-Saeed.
Biden's trip lasted for about three hours, and marked his first visit to Egypt since taking office in 2021.
Biden's visit to Egypt
Biden's visit comes to discuss some important regional and bilateral issues and participate in the 27th climate conference.
The US President held a bilateral meeting with the Egyptian President Abdel Fattah al-Sisi to discuss developments in the Middle East, and underscore the United States commitment to stability and diplomacy in order to end conflicts in the region and de-escalate tensions.
The bilateral meeting between Biden and President Sisi came at 3:55 pm at the Tonino Lamborghini International Convention Center.
Biden gave his speech on climate change by 5:15 pm.
He then left Sharm el-Sheikh airport at 6:20 pm, heading to Cambodia to participate in the annual US-ASEAN Summit, from 12 to 13 November, and then participate in the East Asia Summit on 13 November he will then head to Bali, Indonesia, to participate in the G20 Summit.
Main points of Biden's speech at the COP27 climate summit:
-Pledging US$150 million in US commitments to African countries to adapt to climate change.
-Enable the United States to make progress in investing and creating infrastructure for the transition to clean energy.
-Providing clean energy resources to counter global warming and combat climate change.
-Avoid an environmental catastrophe and transition to green energy.
-Achieve zero emissions targets in line with the goals of the Paris Agreement by 2030.
-Facing the challenges arising from the repercussions of Russia's war against Ukraine
-That the climate crisis is related to human and economic security.
-Preparing the infrastructure for the transition to clean energy and making progress in investment.