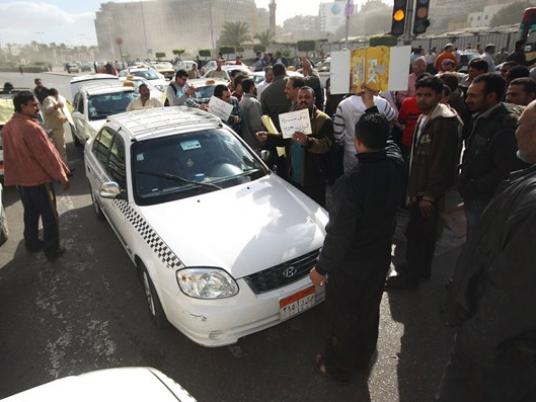 Amid a slew of recent labor protests, drivers of white taxis blocked a main Cairo traffic artery last week, parking dozens of cabs in front of the Cabinet building. Their protest, drivers say, was meant to call attention to the efficacy of a three year-old government program to replace the capital's aging taxi fleet.
The drivers, who reportedly numbered over 100 and severely disrupted traffic on Qasr al-Aini Street, say the government has failed to deliver on its promises to fairly compensate the thousands of taxi owners who participated in the multimillion pound exchange program, which they say has forced unnecessary requirements upon them.
The government, starting in 2009, required some owners of the older black-and-white taxis that stipple the Cairo urban landscape to exchange their cars for newer models in a scheme to modernize Cairo's cabs.
White-taxi owners say the government's financing plans have fallen far short of what they deserve and that monthly payments on their new cars have proven an unjust financial burden.
The government issued LE5,000 in compensation to the drivers when they turned in their old vehicles in return for the new ones, which were priced between LE50,000 up to over LE70,000, depending on the model. Owners must pay monthly installments or risk having their cars taken by the bank, drivers say; many signed up for payment plans lasting four or five years.
The protesting drivers called for the cancellation of their debts and for lower valuations of the cars — perhaps at LE35,000 instead of LE50,000, for example — in effect decreasing their monthly payments.
The drivers also say they have been unfairly tasked with bringing in their cars for inspections twice as often — every six months instead of the yearly check the older black cabs undergo — which means they must pay the government twice as much in inspection fees, according to drivers.
The government initially promised a program to reduce payments for owners who placed advertisements on their vehicles, but that initiative came to a halt after a short period of time, when the program grew too massive.
Several drivers say they wish they had never participated in the program, but that they had no choice.
Sarwat Abu Hany's vehicle cost LE54,000 after applying a LE5,000 credit he received for his old car. The 53-year-old driver from New Cairo said he struggles to keep up with his monthly payments of LE900 for the car that he owns.
"If you are even a little late with your monthly payment, they take your car from you," he says of the banks to whom taxi owners pay their installments.
Some drivers have threatened an open sit in or a strike if the government does not meet their demands.
"If we stop driving even one hour of one day, Egypt will collapse," says Hamdy Ali, a 60-year-old driver from Dokki who attended last week's protest. "It will come to a standstill. No one will be able to get to work."
The responsibility for the cars should fall on the government's shoulders, he says, particularly since officials were behind the switch to more environmentally friendly cars.
"This car is nice, and the country will become cleaner," Abu Hany, who has been a taxi driver for 35 years, says. "So it's the responsibility of the government."
The Ministry of Finance enacted the exchange program to modernize the country's aging, pollution-emitting taxi vehicles, replacing them with cleaner, more fuel-efficient models.
Taxi drivers at the time chose from a range of models with working seat belts, air conditioning, and other amenities unheard of in older cabs. They also had the option of purchasing more environmentally friendly natural gas-powered vehicles.
While the exchange program appealed to drivers at its inception, for some it has become a burden due to the economic downturn in Egypt.
"The program is good in theory, but because of the situation in the country, there's no money to pay the installments," says Mohamed Shalabi, a 57 year-old taxi driver from Shubra. He pays 1,200 LE per month for his Chinese BYD car, which he said cost over 70,000 LE — more expensive than what it should have been, he says.
"Before, the money we'd make would go directly into our pockets. Now, it goes to paying off the car," Shalabi says.
The problem may lie in government officials' failure to respond to the road bumps in the program's implementation, including shifting economic circumstances and feedback from taxi drivers, according to Hoda Awad, a professor of political science at Misr International University.
"[For] any new projects, you have to see what the challenges are, what are the obstacles," Awad says. "There must be follow up on the project to make sure it is OK."
The protesters have called on the new government to address their complaints. The drivers' demands fit in with a culture of over-reliance on the government, Awad says.
"People want to take and not give," she says.
Some drivers say the government did not give them access to the best deals possible, charging inflated prices for the cars. While banks offered attractive loans, the drivers still feel short-changed.
Ahmed Omran, who has driven a taxi for 25 years, says his replacement car is poorly made.
"The price of the monthly installment isn't the problem — it's not too high," says Omran, 38, who does not own the cab he drives. "The problem is the quality of the cars. The Chinese cars are bad."
He points to a battered car in front of him in traffic by Al-Azhar mosque.
"That one's from 1979 or something. It's running as smoothly as butter," he says.