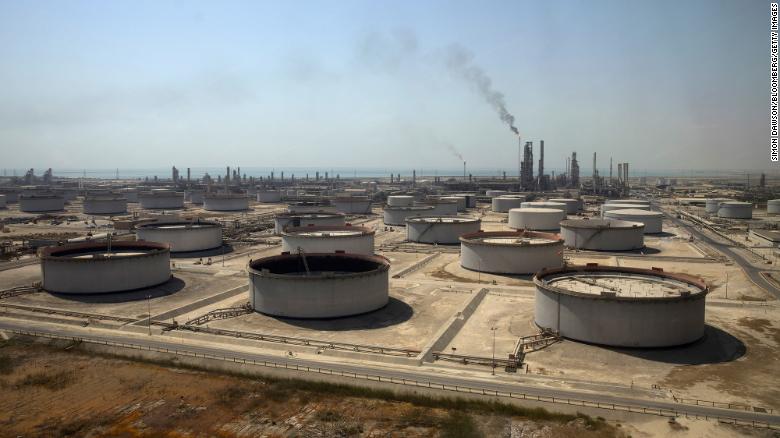 Abu Dhabi, UAE (CNN) – Oil-consuming nations wait with bated breath as the OPEC cartel meets once again this week to decide whether to pump more crude into the market to tame runaway prices.
After Russia's invasion of Ukraine, oil this year rose to a 14-year high. Prices have since eased slightly and Brent crude futures stood at around $113 a barrel as of Monday, but Western nations have been pressuring oil states to continue adding more oil to the market.
On Monday, French President Emmanuel Macron called on oil producers to ramp up output by "exceptional" volumes, the AFP news agency reported.
But when oil exporters meet on Tuesday to decide on whether to raise output, they'll have to take into account a looming global recession that threatens to slash demand for their crude and diminish their ability to control its price.
As central banks hike interest rates to control inflation, a global economic downturn in the next 18 months has become more likely, economists have warned.
A recession is an "increasingly palpable risk" for the economy, Citigroup analysts wrote in a note on Wednesday in an assessment of the trajectory for global growth over the next 18 months.
Experts say oil producers can't preempt the downturn by pumping more. And if a recession does occur, adding more barrels risks crashing the price of crude and hurting their own economies.
The only countries that are able to pump more oil, Saudi Arabia and the United Arab Emirates, have said that the oil market is balanced and that there is no need to produce more. Together, they have the capacity to add 2.5 million barrels per day (bpd).
Yousef Alshammari, CEO and head of oil research at CMarkits in London, said that oil producers realize that the economic impact of the rate hikes is yet to be felt by the oil market, and they are acting accordingly.
OPEC alone doesn't have the ability to avert a recession, said Amena Bakr, chief OPEC correspondent at Energy Intelligence. "I think a recession can't be bypassed… The state of the economy can't be sustained. At some point there needs to be a crash and reset," she said.
During its last meeting on June 2, OPEC already agreed to increase output by 648,000 bpd in July and in August, up from the initially agreed upon 432,000 bpd until September.
As US President Joe Biden prepares for his visit to Saudi Arabia in mid-July, there has been speculation that Riyadh may add more barrels as an act of goodwill.
"It would be a nice gesture" that would help control inflation in the United States in the short term, said Alshammari.
But Saudi Arabia, the producer with the most spare capacity, has been sounding alarms about oil nations' diminishing ability to keep pumping more oil.
"The world needs to wake up to an existing reality," Saudi Energy Minister Prince Abdulaziz bin Salman was cited as saying by Bloomberg in May. "The world is running out of energy capacity at all levels."