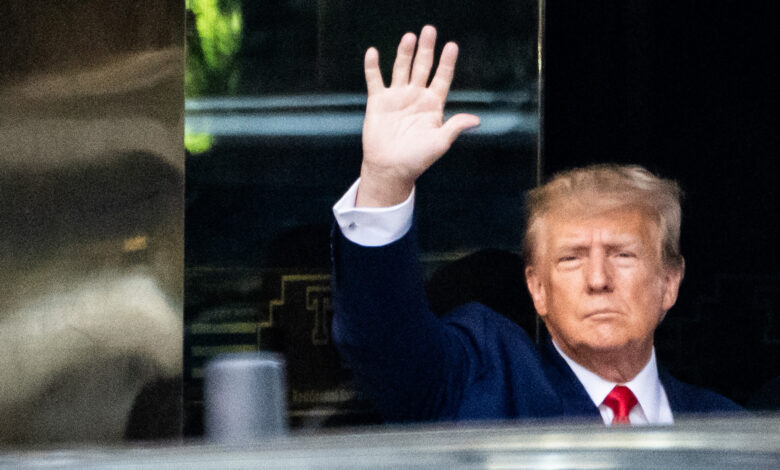 Tuesday's 45-page indictment took the country to an unprecedented, profound and even tragic place.
For the first time, America is set to put on trial a former president for trying to destroy its democratic system because, as the indictment put it, "he was determined to remain in power" despite having lost an election. And he's not just any former president – Trump's the front-runner for the GOP nomination, whom polling shows is closely matched with President Joe Biden in a hypothetical rematch.
The indictment details a clear and chilling alleged plot to subvert the will of voters in 2020 and to sever the chain of voluntary transfers of power between presidents inaugurated by George Washington leaving his nation to "command its own fortunes" when he declined a new term in 1796.
Special counsel Jack Smith's charges are more significant than those in two earlier indictments against Trump in separate cases because this indictment from a Washington grand jury strikes at the core of America's founding values and the republic's constitutional underpinnings. Trump has pleaded not guilty in the other two cases – the first in Manhattan over business fraud charges related to a hush money payment and the second over alleged mishandling of classified documents – and he denies wrongdoing in the aftermath of the 2020 election.
Moments after the indictment became public, bitter recriminations from his supporters and claims of partisan persecution showed how it will deepen an already tortured national political estrangement.
Trump reacted by resorting to the same inflammatory language and anti-democratic rhetoric that is detailed through the indictment and that led the country to the brink of a coup after the last presidential election.
His campaign issued a statement claiming Smith's indictment as an example of "election interference" – throwing the broader transgression of which he was effectively accused back at the Biden administration Justice Department, which had tapped the independent special prosecutor to probe the matter.
And the campaign statement used the most inciteful historical analogy possible to condemn the new case against the former commander in chief. "The lawlessness of these persecutions of President Trump and his supporters is reminiscent of Nazi Germany in the 1930s, and other authoritarian, dictatorial regimes," it said.
Trump's congressional Republican backers ignored Smith's evidence, branding the indictment an attempt to distract from questions they've raised about the business activities of the current president's son, Hunter. Still, the GOP has yet to provide any evidence that Joe Biden was complicit in any bribery scheme, and he has denied any wrongdoing.
The political inferno ignited by the indictment will raise questions about whether such an ordeal is truly in the national interest. Yet a failure to prosecute an attempt to subvert the will of voters would not only have created a corrosive political precedent, but also would have called into question the future of US democracy itself.
In a brief press statement Tuesday, Smith paid tribute to the police officers who defended the US Capitol from Trump's insurrectionists on January 6, 2021. "They didn't just defend the building or the people sheltering in it. … They defended the very institutions and principles that define the United States."
In a way, his indictment did the same thing.
The most serious bid to hold Trump to account for actions after 2020 election
This is just the latest effort by the US government to account for the scars of the disputed 2020 election, which have included the prosecutions of hundreds of rioters who stormed the Capitol.
It represents the most concrete attempt yet to subject Trump to personal culpability as the alleged ringleader of the conspiracy. And given that the most serious constitutional remedy to constrain a president – impeachment – didn't produce a conviction in a Senate trial, it may be the final effort to hold him to account on the federal level.
In many ways, the indictment validates the work of the House select committee that investigated January 6, 2021, which Republicans disbanded when they won the House majority.
But a forthcoming trial would also initiate a fresh chain of consequences and potentially constitutional crises, many linked to the fact that the ex-president is running to reclaim the White House – and has a decent shot of doing so.
Should he and Biden emerge as their parties' respective nominees, they'd be in a tight race, according to a New York Times/Siena College poll released Tuesday, before the latest indictment news. The new charges therefore set up unfathomable stakes for a potential general election matchup. If Trump won, he could seek to use his new Justice Department to sweep away his criminal liability. If he lost the election, and was convicted, he could be looking at jail time.
And if Trump loses the GOP nomination, any other Republican who won the White House in 2024 would face fierce pressure to pardon Trump if he's convicted in this or other cases – a decision with the potential to overshadow their own administration.
The timing of any trial could be important. CNN political commentator Scott Jennings, a Republican, argued that voters have the right to know the outcome of this case before making their decision on a new president in November 2024. Trump's team has repeatedly tried to introduce delays in pending cases and his calendar is already filling up with other trial dates next year. Still, Karen Friedman Agnifilo, a CNN legal analyst and former chief assistant district attorney in Manhattan, described the indictment as "neat and clean," with the potential to go to trial fairly quickly.
Harrowing details of an alleged plot to steal the election
The third indictment against Trump thickens an extraordinary web of legal peril surrounding the former president – and may not even be the last he faces. A district attorney in Fulton County, Georgia, is shortly expected to announce charging decisions stemming from a probe into efforts to overturn Biden's victory in the key swing state.
It also recreates in harrowing details the alleged attempts by a single powerful man to defy the will of voters and to cling to his job like a developing world autocrat. More than two years later, those details have the capacity to shock and raise profound questions about Trump's suitability for a possible return to the White House, before which he would take an oath to defend a Constitution he allegedly tried to violate.
Smith charged Trump with four counts – conspiracy to defraud the United States, conspiracy to obstruct an official proceeding, obstruction of and attempt to obstruct an official proceeding, and conspiracy against rights.
More broadly, the ex-president is accused of spreading lies that there had been fraud in the election despite knowing "they were false." This is a key point since prosecutors will have to show that the ex-president had criminal intent to secure a conviction.
Trump is accused of unlawfully seeking to discount legitimate voters and subvert electoral votes and of conspiring to disrupt the process of counting, collecting and certifying the results of the election. Smith alleges that Trump and six co-conspirators, who were not charged in this indictment, variously and illegally pressured then-Vice President Mike Pence to assist his attempt to overturn the result, sought to use the Justice Department to delegitimize the election and submitted fraudulent slates of presidential electors to Congress.
Furthermore, while saying that Trump had a right to claim fraud in an election even if it was false, Smith alleges that the then-president knew he lost, thereby giving his claims a criminal cast. To prove his point, Smith cites a meeting when Trump was briefed on a national security matter but agreed he would defer action until the next president. Trump said, according to the indictment, "Yeah, you're right, it's too late for us. We're going to give that to the next guy."
Smith and his prosecutors use the indictment to repeatedly and powerfully show Trump being told by his own legal, political and campaign advisers that the election was lost, only for him to then continue to take actions to undermine it. "Any time anyone told him the truth, he just went out and lied," George Conway, a conservative lawyer and Trump critic, said on CNN on Tuesday.
Trump's legal team is likely to argue at a trial that the ex-president sincerely believed he had won the election and so was acting in good faith and not criminally. But such a position would seem to require an extraordinary suspension of disbelief on the part of jurors.
Trump lawyer John Lauro claimed that the indictment was an attempt to interfere in the next presidential election and would profoundly change American politics. "It is the first time we have taken political speech and said we will criminalize it," he said on CNN. He also argued that it would be necessary for Trump's legal team to investigate whether electoral fraud had taken place – even though courts have repeatedly said that there was no widespread fraud that affected the 2020 result.
The indictment cites many stunning pieces of evidence, including a depiction of a conversation between Co-conspirator 4 (whom CNN has identified as former Justice Department official Jeffrey Clark) and a deputy White House counsel. "There is no world, there is no option in which you do not leave the White House (o)n January 20th," the lawyer said before warning of "riots in every major city in the United States" if Trump stayed on.
"Well, (Deputy White House Counsel) that's why there is an Insurrection Act," Clark is alleged to have replied.
Later in the indictment, Smith recounts an alleged exchange when Trump told Pence he would have to publicly criticize him for refusing to go along with a scheme to subvert the certification of the election on January 6. Smith then cites a stunning episode in which Pence's chief of staff was concerned for his boss' safety and alerted the head of the vice president's Secret Service detail. The possibility that a vice president could be endangered by his own president is a historic twist that emphasizes the terrifying events set in motion by Trump's refusal to accept his defeat.
GOP remains loyal to Trump
While it was hard to read the evidence in the indictment and not be disturbed by Trump's alleged conduct, Republicans immediately portrayed it as partisan, reflecting the ex-president's strong grip on his party and the fact that its base voters have reacted to his previous indictments by redoubling their support and boosting his fundraising.
Florida Gov. Ron DeSantis stands to gain in the GOP primary from any eroding of Trump's political prospects. But despite making clear Tuesday evening that he hadn't read the indictment, the Harvard Law graduate and former US Navy lawyer implied the ex-president could not get a fair trial in Washington.
House Speaker Kevin McCarthy, who once said Trump bore responsibility for the Capitol riot, blasted the indictment as an attempt to "attack the frontrunner for the Republican nomination, President Trump."
And even Wyoming Sen. John Barrasso – the first member of Senate GOP leadership to comment on the indictment – said it revealed a "two-tiered system of justice," adopting a line often heard from Trump and his closest House GOP allies about the current president weaponizing the justice system.
Some Republicans have raised alarms that Trump's legal troubles would alienate critical independent voters. New Hampshire Republican Gov. Chris Sununu, a Trump critic who's not running for reelection, for example, told CNN the indictment showed the ex-president could never build an election-winning majority.
But most of the GOP reaction to the indictment was a reminder that while Smith's prosecution is an attempt to account for Trump's aberrant presidency, it will only deepen America's gaping political divide.