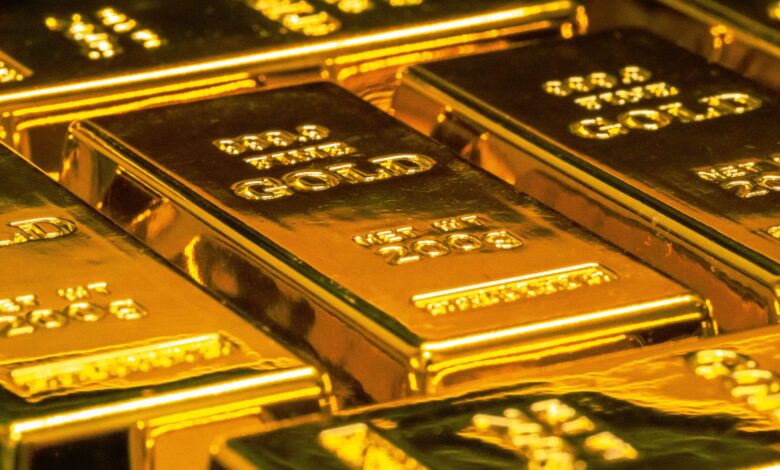 Expectations of a continued decline in gold prices are increasing in light of the trends of central banks around the world to raise the interest rate.
A report from the Daily FX website expects a continued decline in prices during the fourth quarter of 2022, while foreseeing recovery early next year.
The price of gold recorded heavy losses during the third quarter, continuing since its decline for the previous three months, despite the rise in the price of an ounce of gold between late July and early August, above US$ 1800.
After this rally, sellers re-emerged to limit the upside and trigger a bearish reversal, sending prices below US$ 1,700 at the end of September, the lowest in more than two years.
As a result of the Federal Reserve tightening monetary policy by 300 basis points in the past seven months, sovereign bond rates and the US dollar have jumped to multi-year highs, which are headwinds for gold.
Going forward, there is a belief that gold may continue to under-perform in the early fourth quarter before hitting a new low in late fall.
The Fed's increasingly hawkish stance suggests the benchmark interest rate could reach 4.6 percent next year, up from the current 3.1 percent.
The US dollar biased to the upside, creating an environment hostile to precious metals in the near term.
Improvement by 2023
The outlook for gold could improve early next year as tight financial conditions begin to seep through the real economy, adding to downside risks for both the US and the global economy.
Monetary policy operates with a long and variable lag, indicating that the full negative impact of the Fed's raising cycle is not yet being felt.
When the adverse effects begin to become more evident before the end of the quarter, defensive assets could benefit, buoyed in part by safe haven flows.
Investors and traders looking to the future will begin to take a pessimistic pivot position when the headwinds of a recession become too strong to be ignored, slowly lowering long-term bond yields, which generally reflect expectations for growth and inflation.
And when these events begin, the price of gold could stabilize and make a more permanent recovery in the early stages of 2023.