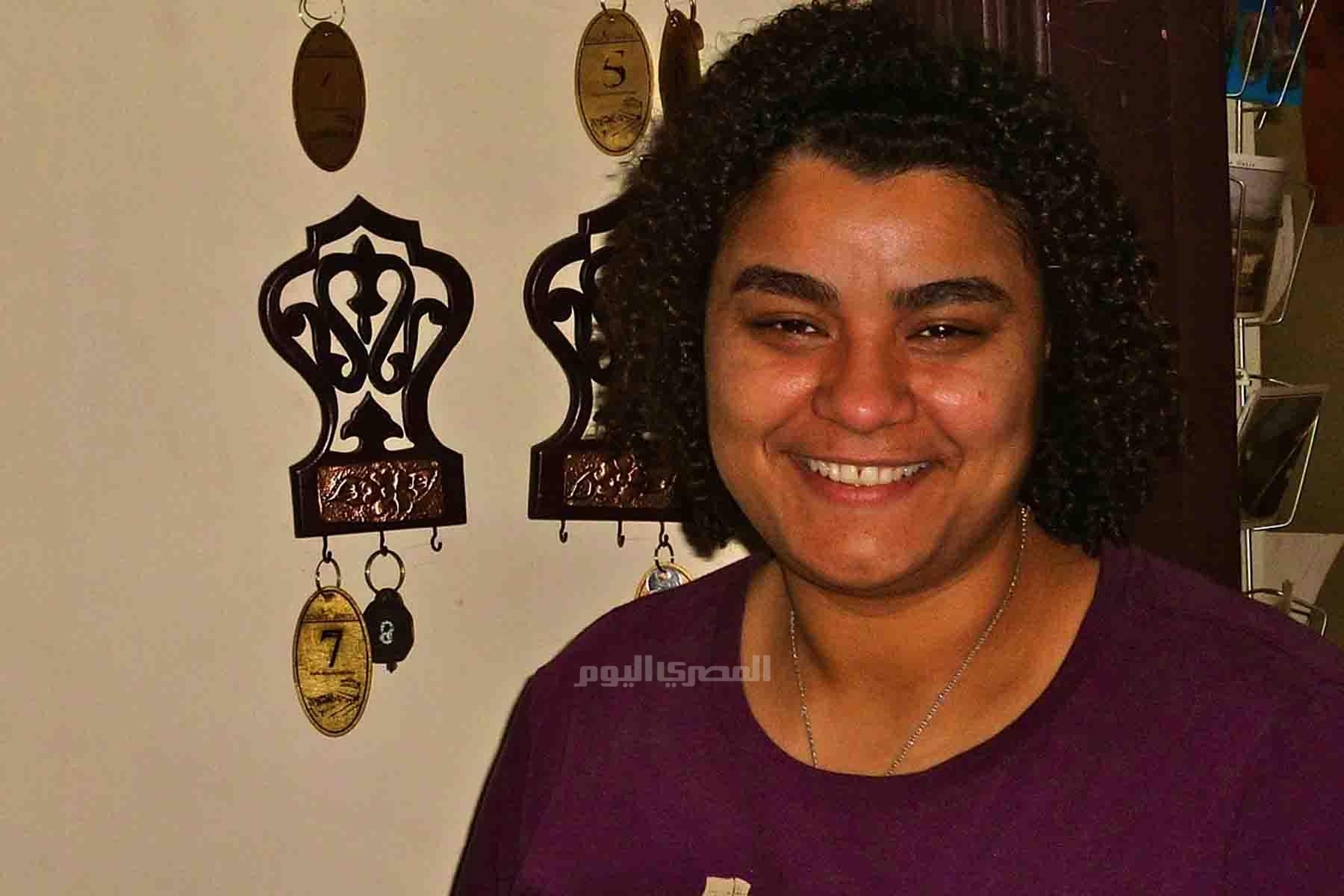 To enter Dina's Hostel is to enter a space of calm, cleanliness and unobtrusive hospitality. Mohamed, one of Dina's loyal staff, waved me over as I stood by the library shelves at the reception. Dina was still on her way, but with the hallways full of local artists' work and shelves of books to browse, the only female-owned hostel in Cairo felt like home.
"I am writing a Wikipedia entry about Egypt's Revolutionary Women's Coalition," Mohamed said, typing carefully at the communal computer. Such projects are not part of his job, but he doesn't mind volunteering his time for Dina. Curious what Dina's staff think of her management, I asked Mohamed what it is like to work for her.
"I learned so much from Dina," he said sincerely. "She teaches us to run the hostel independently, without needing specific tasks to be given."
He does not mind working for a young woman either. "She has made her own project, which is something great. Many guys her age have not even done this," he says. Before long, we heard Dina's voice from the reception area.
Female-owned and run
Most people are shocked when they learn that Dina runs her own hostel. On a recent trip to obtain a governmental permit, officials refused to believe Dina is the owner, despite that her paperwork attests to this fact. "Your father put it in your name?" the official asked.
Others see Dina's Hostel as an exciting example. "I'm taking a course with these girls, who I told about a women's coalition meeting," Dina recounted. "When I gave them the address — Funduk (hotel) Dina — they said, 'It's your name!' in gleeful disbelief."
When hiring staff, Dina's first priority is to find kind, polite people — without prior experience. This rule came from Dina's ten years of working in tourism and watching how her male colleagues dealt with tourists. "[They] see the guests as sex, money, drugs." Wanting to create a safe and comfortable atmosphere for all guests, especially solo female travelers, Dina trains from the ground up.
It takes a village
Dina's biggest supporters are her friends. "They were so excited when I opened the place, and a lot of things here are gifts," she says, pointing to the carpets and kitchen supplies. Others gave their time, helping Dina to create her website and renovate the space, which is decorated in Bedouin style with simple furniture and mats to sit on. Having started with only "four rooms and no money," Dina's friends lent her the startup funds, and today she has expanded to the other side of the building.
Dina did not tell her family at first, wanting to ensure the hostel was a success. She laughs as she recounts her mother's horror when she found out. "She panicked — 'I don't have money for your craziness!' She thought that she would have to bail me out if I go down." But the hostel has been a success.
Dina's mother's visits always come with a critique of the hostel. "She says, 'Oh, you have to do this and this,'" Dina laughs. "But then she tells people, 'That's my daughter. I made her like this,' so I know she is proud of me."
Revolutionary Women's Coalition
Dina's takes her role as a trailblazer seriously and is not content to focus solely on her business. In the days following Mubarak's resignation, she and her friends found that most revolutionary coalitions and groups were forming without women.
The Revolutionary Youth Coalition started with 14 men. "Later we pushed them, so they again opened the door for more people to join." Now, they were 19 men and one Christian woman, according Dina. "As we say in Arabic, killing two birds with one stone."
The idea for a Revolutionary Women's Coalition was born out of this exclusion. The coalition would unify women's NGOs, providing a venue to exchange the expertise of established NGOs with the ideas and enthusiasm of the revolutionaries.
Dina volunteered her hostel as a meeting space, and recalls those early days, when the salon and hallways were packed with 60 people writing. But the spirit of camaraderie diminished as members began to drop out over time.
"It's an ego thing, it's territorial, and at the same time, they don't have time to volunteer because they want to give their energy to their own NGO," she says. After initial meetings, Dina found that some were working on the very projects that had been discussed at the coalition meetings, but in their own NGOs. "There were all these competing interests and at the beginning I got so angry," Dina recounts.
But as time passed, Dina began to appreciate that the coalition had sparked change, even if not in the way they initially hoped or expected.
For example, prior to the formation of the coalition, women's NGOs typically steered clear of political activities. "They were working on projects for cooking, sewing, employment," Dina says. "Now you see them empowering women in parliamentary elections, supporting 60 women to make political campaigns."
Even the Egyptian Feminist Union, founded in the 1920s and defunct since the 70s, has been revived. "Now I see that our movement did encourage those people to do something, and this is a good thing," Dina says.
Having regrouped after six months, the Revolutionary Women's Coalition will host a celebration of Egyptian Women's Day this Friday, 16 March in Abdeen Square. There will be activities for children, workshops, musical performances and free medical care for those in need. Dina hopes the coalition can engage the community in new and creative ways.
Bureaucracy and business
One of Dina's greatest business challenges when starting her hostel was obtaining the official paperwork.
"Everyone pays money to get the license or just to meet the person who can say yes or no," she says. Dina upheld the integrity that she teaches her employees, refusing to give facilitation payments.
"They made me wait 30 days just to meet the person who could give the final permission," Dina says. This meant waiting one night from 10 pm to 1 am outside an official's office.
When asked what counsel she would give Egyptian women looking to start their own businesses, Dina advises strength and patience in the face of hostility and prevailing social norms.
"Even I had a big problem, when I was working for other people, giving orders to anyone," Dina says, recalling a period when the security guard at a hotel she worked for would not listen to her, but ran to fulfill the orders of her 19-year-old male colleague, with a "Yes, basha" to boot.
There were several instances when Dina was in charge of training her replacements, but they refused her guidance, insisting to the manager they needed a male. "These guys really need a job, they want to work, but they dropped out because I was the one giving the training."
But even before Dina founded her own hostel, she became firmer and more confident in management roles. "My personality changed," she says.
Equality and empowerment are Dina's hopes for Egyptian women. "If we work hard, I'm sure we can achieve things — not just the coalition, all Egyptians," she says. "Otherwise, we are going backward."