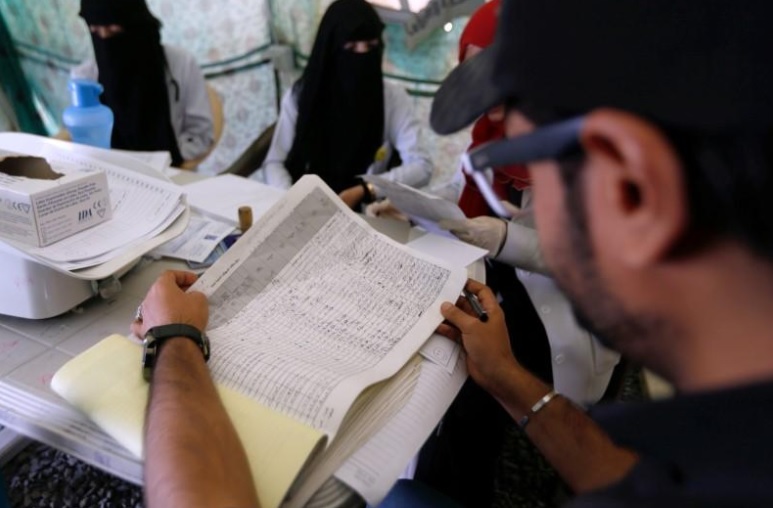 A cholera epidemic in Yemen, one of the worst ever recorded, is likely to surge again around March, giving global health experts a few months to get vaccines in to the war-torn country to try to limit the next wave of cases.
Some three million doses of oral cholera vaccine are currently available in a global stockpile designed for such emergencies, according to the World Health Organization.
They could be shipped to Yemen in time to be used in a preventative immunization campaign ahead of the rainy season, when the risk increases that cholera will spread further through water contaminated with faeces. A million people have been infected so far in the epidemic, according to the WHO.
But a previous plan to get vaccines to Yemen's suffering population was aborted earlier this year, because of the country's ongoing civil war, with both the WHO and Yemen officials citing logistical and technical obstacles.
As a result, WHO officials are not sure this next hoped-for vaccination plan will come off.
"The plans have been discussed in principle, but much depends on the situation on the ground," said Gregory Hartl, a spokesman at the WHO's headquarters in Geneva.
Abdulhakeem Alkohlani, a spokesperson for Yemen's health ministry in Sanaa, said the ministry had "decided to postpone the [cholera] vaccination until next year," but gave no further details.
Yemen's cholera epidemic is one of the biggest and worst on record. More than 2,200 lives have been lost since April to a disease that thrives in times of conflict and disaster, using poor sanitation to hitch a ride from victim to victim.
The suspected case count has now reached one million, the International Committee of the Red Cross said on December 21. The country also has seven million people on the brink of famine and now an acute outbreak of diphtheria too.
Dominique Legros, a WHO cholera expert, told Reuters the aim would be to vaccinate in a step-wise plan, district by district, starting early in 2018.
"We should be using (cholera) vaccines in Yemen – today, and at large scale," he said. "If we could reach a million people before the next rains, that would be significant. But of course in Yemen, as elsewhere, it is ultimately the decision of the government whether to go for it or not."
Supply would not be an issue, Legros said. As well as the three million doses in the global stockpile, another couple of million doses a month can now be churned out of factories in India and South Korea.
Since conflict and cholera often come together, however, global health specialists say politics will ultimately determine whether the program will get underway. Earlier this year, a cholera vaccination campaign almost got off the ground, but then never happened.
In June, the WHO's office in Yemen requested 3.4 million doses of cholera vaccine from the Geneva-based International Coordinating Group (IGC) on Vaccine Provision – the gatekeeper of the vaccine stockpile system designed to deliver vaccines to countries hit by disease epidemics.
With about two million doses immediately available at that time, the IGC decided to allocate half of that to Yemen.
Yet three weeks later, the Yemen vaccination plan came to an abrupt halt. With the first half million doses sitting at the airport in Djibouti, the WHO made the unexpected announcement, on July 10, that the decision to vaccinate had been reversed.
Legros said the decision was not the WHO's. "It was the (Yemen) ministry of health's decision finally…not to use the vaccines. That's how it was. So we had to re-ship the vaccines to another country."
The Sanaa health ministry's Alkohlani said the vaccine plans had been made too late, and that the decision not to go ahead with it in July was "purely technical."