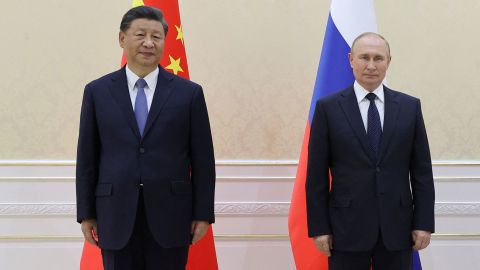 Xi Jinping and Vladimir Putin are scheduled to speak Friday via video conference, the Kremlin said, with analysts watching for any sign of a softening in the Chinese leader's support for the Russian president after more than 10 months of war in Ukraine and as China faces an unprecedented Covid outbreak.
The two leaders will primarily discuss bilateral relations between their countries, and exchange views on regional issues and their strategic partnership, Kremlin spokesperson Dmitry Peskov said on Thursday.
Moscow and Beijing have drawn closer in recent years, with Xi and Putin declaring the two countries had a "no limits" partnership weeks before Russia invaded Ukraine in February.
China has since refused to condemn the aggression, instead repeatedly laying blame for the conflict on NATO and the United States — and remaining one of Russia's key remaining supporters as it grows increasingly isolated on the world stage.
But more than 10 months into the grinding war, the world looks much different — and the dynamic between both partners has shifted accordingly, experts say.
"China is eager for (the war) to end," said Yun Sun, director of the China Program at the Washington-based think tank Stimson Center.
"Xi will try to emphasize the importance of peace to Putin. As Russia is getting impatient with the lack of progress on the battlefield, the timing is ripening for peace talk in China's eyes."