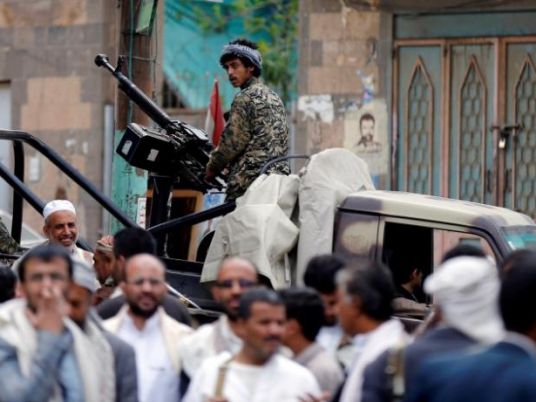 The leader of Yemen's Iran-allied Houthi faction accused the United States of providing logistical support and political cover for Saudi-led air strikes in the 18-month Yemeni conflict.
In his first published interview since the start of the civil war, Abdel-Malek al-Houthi also told the Houthis' quarterly magazine his group was open to a peaceful solution of the conflict, in which at least 10,000 people have died.
"The United States plays a major role in the aggression … including logistical support for air and naval strikes, providing various weapons … and providing complete political cover for the aggression, including protection from pressure by human rights groups and the United Nations," he said.
The United States is a key ally of Saudi Arabia, which has come under fire from human rights groups over the air strikes that have repeatedly killed civilians in Yemen.
Saudi Arabia and its allies, which have intervened in the conflict in support of the exiled government of Yemeni President Abd Rabbu Mansour Hadi, see the Houthis as proxies of their archrival Iran.
The Houthis deny this and say Hadi and Saudi Arabia are pawns of the West bent on dominating their impoverished country and excluding them from power.
U.N.-sponsored talks to try to end the fighting collapsed last month and the Houthis and allied forces loyal to former Yemeni president Ali Abdullah Saleh have resumed shelling attacks into Saudi Arabia, Yemen's large northern neighbor.
In his interview, Abdel-Malek al-Houthi said his opponents did not understand the meaning of real dialogue.
"The hurdle facing negotiations and dialogue is that the other party wants to achieve through the talks what it wanted to achieve through war, not understanding that the path of dialogue and peace is different to the path of war," he said.
Last month U.S. Secretary of State John Kerry said he had agreed in talks in Saudi Arabia with Gulf Arab states and the United Nations on a plan to restart peace talks for Yemen with a goal of forming a unity government.
Both the Houthis and the exiled government have welcomed the idea of a return to talks since then.