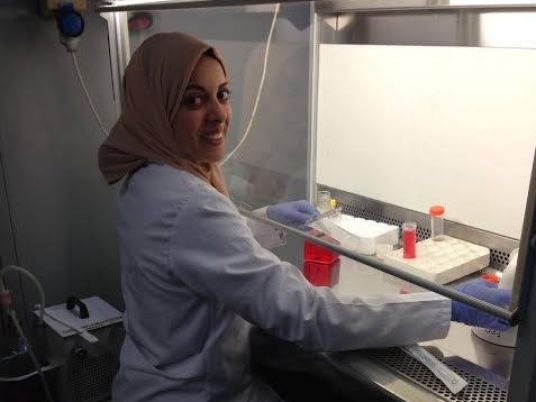 Nancy Karem, a senior biotechnology student at the University of October Modern Sciences and Arts, developed a new medical technique involving nanotechnology which targets only cancerous or mutated cells and leave normal cells undamaged.
As a part of her graduation project, Karem along with her two colleagues, Howayda Samir and Hisham Ashraf, were selected to travel to the University of Palermo in Italy for three months. There, they worked on a project aiming to design a new way to treat cancer using nanotechnology.
"My team and I developed a new medical technique, not a medicine, using nanotechnology; in the future, this can allow doctors to treat only cancerous cells and leave normal cells unharmed, and thus could avoid using high doses of chemotherapy," Karem told Egypt Independent.
Karem said she designed the idea and her collogues worked on testing it; they found that cancer cells could be treated in just 16 hours, which will work on limiting the use of chemotherapy drugs.
She was invited as the only Egyptian, or Arab, to participate in the Young Scientists Workshop on "Nano-medicine in Cancer" in Paris after her project was selected from the top 10 by the Cancéropôle Grand Sud-Ouest Foundation.
During the workshop, there was a 45-minute exam which Karem successfully passed. Despite strong competition from many projects and ideas by people from all around the globe in the field of cancer treatment, her project snatched first place. As a prize, she recieved a scholarship for a Master's in Paris.
After returning to Egypt, Karem was honored by the Minister of Higher Education and Scientific Research who awarded her a Master's, fully-funded by the government, and a scholarship for a PhD from the university of her choice upon her acceptance.
"Egypt is targeting the talents of their creative youth and will provide all the possible facilities to utilize them in the progress and prosperity of the country," the minister said.
The minister said Karem will be hired directly after graduation to a scientific research institution of her choice. "The minster promised me that he will provide me with a suitable lab and all the capabilities to develop my idea and make it a reality, as so far the project is in vitro," she said.