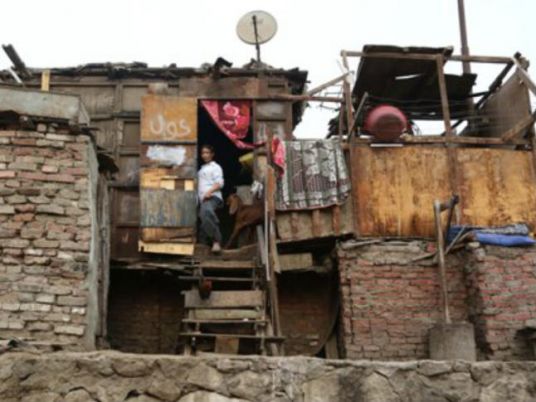 A research study has revealed that Egypt has slums in at least 79 areas, with 12 areas in need of demolition and 67 areas in need of development work to provide essential infrastructure and improve living conditions.
The study, which was conducted by a group of young graduates specializing in environmental and societal relations, shows that around 40 percent of all Egyptians live in slums, with Cairo and Giza containing four slum areas that are among the largest in the world.
The researchers conducted their study as part of the "Can Yama Kan" project, which aims to involve young Egyptians in desiving and advocating for new policies in social areas. The project has been devised by Think Tank Development Solutions, a leading institution in development and societal activities, working in cooperation with the British Council.
Several young researchers taking part in Can Yama Kan decided to focus their energies on Egypt's slum situation, and they will present their findings at a seminar on October 22 and 23. Titled "Youth Participation in Public Policy", the seminar will take place at the American University in Cairo's Orient Hall building, near Tahrir Square, and will allow the researchers to share their findings with representatives from the private sector, civil society and the Egyptian goverment.
According to a press release ahead of the seminar, the new report lists several reasons for the spread of slums in Egypt, including the existence of administrative and organizational problems concerning the governing of Egypt's cities.
Another cause is the issue of centralization, say the report's authors. Almost all government services are centralized in the main cities, which results in large numbers of people moving to Egypt's big cities or near them, causing overcrowding and pressure on services and infrastructure.
In addition, say the researchers, slums are not recognized by Egyptian law because they were developed and maintained outside of government control, meaning that officials often refuse to take responsiblity for their upkeep.
Researcher Mai Ossama, the head of the research group, revealed that their report is focused mainly on slum areas that lack utilities, such as running water. The report outlined two methods for bringing such utilities to slum areas, the first of which is to increase the role of the Informal Settlements Development Fund (ISDF) to develop those areas in most need.
A second option would be to increase cooperation between the public sector, the private sector and civil society to help fund the development of such areas. The report's authors conclude that this second option shows most promise.