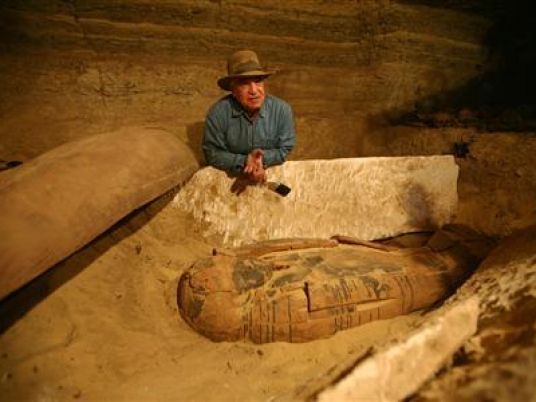 During a tour with a large number of school and university students, famous Egyptologist Zahi Hawass revealed that in the upcoming days he would announce a great archaeological discovery, possibly the wife of pharaoh Tutankhamun, Youm7 reported on Friday.
Hawass added that for the first time there would be an announcement of a huge archaeological discovery through a 100 percent Egyptian archaeological mission.
All the discoveries previously made were through foreign missions, but this discovery includes a mission headed by Hawass and 200 workers at the Ministry of Antiquities, he said, adding the mission operates in the Valley of Kings.
Hawass toured with a group of children of different ages through around ​​the Giza pyramids.
The aim of the tour is to inspire a generation of children who would grow up loving Egyptian antiquities, he said, adding that he will give the children books he wrote on ancient Egypt as gifts.
According to Youm7, Hawass said he founded the Zahi Hawass Center of Egyptology affiliated to the Bibliotheca Alexandria after he noticed that many children are interested in antiquities and the details on the life of pharaohs.
Hawass urged parents to encourage their children to read, stressing that he sponsors children interested in Egypt's antiquities through his center located in the Smart Village.