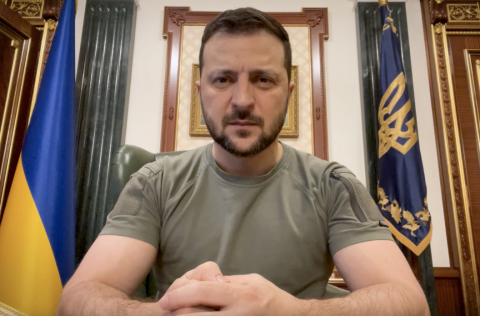 International assistance will be vital in overcoming Russia's sustained assault on Ukrainian energy facilities, Ukrainian President Volodymyr Zelensky said in his nightly address on Tuesday, highlighting diplomatic efforts to counterbalance Moscow's attacks.
"We will do everything to give people electricity and heat this winter," said Zelensky. "But we must understand that Russia will do everything to destroy the normality of life."
Zelensky repeated his regular call for air defenses to protect Ukraine, and revealed that he discussed "very specific projects both to strengthen our defense and to rebuild the destroyed facilities" during a conversation with French counterpart Emmanuel Macron.
Also on Tuesday, Zelensky met with Kadri Simson, the top energy official at the European Commission (EC), and the pair agreed "many working agreements," he said.
Russia's missile and drone attacks have seriously damaged more than 30% of Ukraine's energy infrastructure, the EC said in a statement Tuesday, and the assault continues.
"The bet of terrorists for the winter is completely transparent to everyone, and this challenge should be viewed precisely as a challenge to all of Europe," said Zelensky. "Moscow will present any winter difficulties in its propaganda as alleged proof of the failure of a united Europe."
"They are hopeless on the battlefield. Ukrainian warriors have already proved it," the Ukrainian president added.
"But it takes time, it takes effort, it takes patience to prove that even the hope for winter will not come true for Russian terrorists. I'm sure we'll get through it."