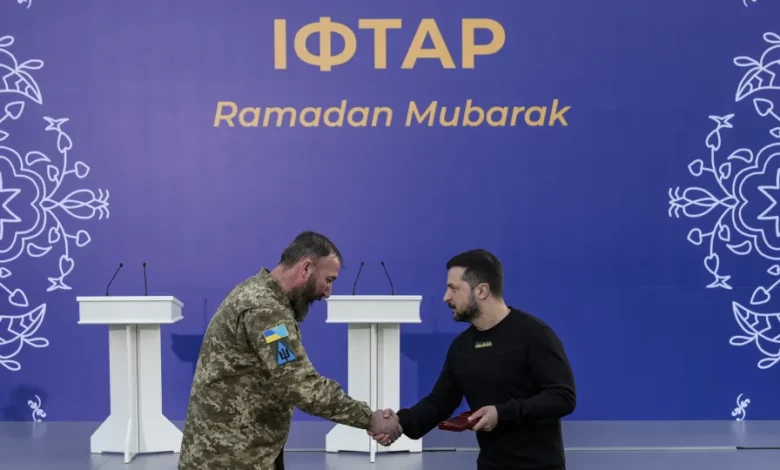 Ukrainian President Volodymyr Zelensky shared Iftar with Ukrainian Muslim soldiers observing Ramadan on Friday, in what he said would become an annual "new tradition of respect."
Iftar is the meal breaking the daily fast during the Islamic holy month of Ramadan.
Addressing participants at the dinner which included leaders of the Mejlis, the single highest executive-representative body of the Crimean Tatars, and representatives of the Muslim clergy, Zelensky thanked the Muslim community.
He said the month of Ramadan was "respected everywhere in Ukraine – even at the front line, even in combat conditions."
Since Moscow's unprovoked invasion in February 2021, Ukraine has launched multiple strikes against Russian positions in Crimea, which was previously annexed by Moscow in 2014 and is currently under Kremlin control.
Zelensky has repeatedly vowed to liberate Crimea, which he says remains "part of Ukrainian people and society.
He also criticized Russia's treatment of Muslims in Crimea.
"Russia's attempt to enslave Ukraine and other people of Europe began precisely from the occupation of the Ukrainian Crimea, precisely from repressions in the Crimea against Ukrainian and Crimean Tatar freedom, against Crimean Muslims," Zelensky said.
"The liberation of Crimea has no alternatives not only for Ukraine, but also for the whole world."