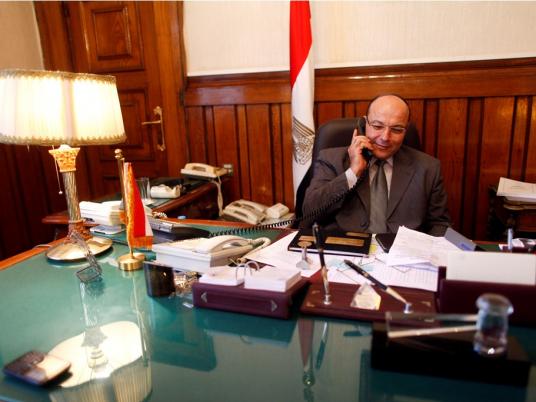 While Justice Minister Ahmed Mekky said the controversy surrounding Prosecutor General Talaat Abdallah's resignation has been put to rest, the Judges Club begs to differ.
"I don't see any crisis [here]," Mekky said. "The crisis was in the judges and prosecutors' decision to boycott in violation of the law, and this was ended."
The controversy surrounding the prosecutor general was manufactured for political gain, Mekky claimed, asking, "Why does Talaat Abdallah have to leave when nobody has brought any [charges] against him?"
The Judges Club won't let this issue die away, warned club spokesperson Helmi al-Sherif in response.
"The solution is in Abdallah's hands alone," Sherif said, adding that the club rejects to the president's dismissal of Abdallah just as it had rejected to the dismissal of his predecessor, former Prosecutor General Abdel Meguid Mahmoud.
The Judges Club would not object to nominating Abdallah to the position of prosecutor general again if he is forced to resign, Sherif told Al-Masry al-Youm.
Abdallah did not attend a meeting with the Supreme Judicial Council and the leaders of different Judges Club branches, although he had been invited, Sherif added.
Sherif called on the minister of justice and the general prosecutor follow the lead of the prosecutors who ended their strike, and to put the public interest above all else.
The prosecutors transferred their battle to the land of law by filing suit against Aballah's appointment, Sherif continued.
He called on Abdallah to respect the ruling when issued, whatever it may be. Mekky and the SJC will continue to discuss the problem in order to reach a quick solution, Sherif added.
Shadi Khalifa, a representative of prosecutors in the Judges Club Board of Directors, said that the meeting between the Supreme Judicial Council and the Judges Club did not resolve the controversy, and confirmed that prosecutors are studying several options for escalation to be announced next week.
Khalifa told Al-Masry Al-Youm that the prosecutors would continue fighting for the independence of judiciary.
Abdel Sattar Emam, head of the Judges Club in Monufiya, said the prosecutors' anger is legitimate. If Aballah is "wise," he will resign of his own volition, Emam added.
Edited translation from Al-Masry Al-Youm