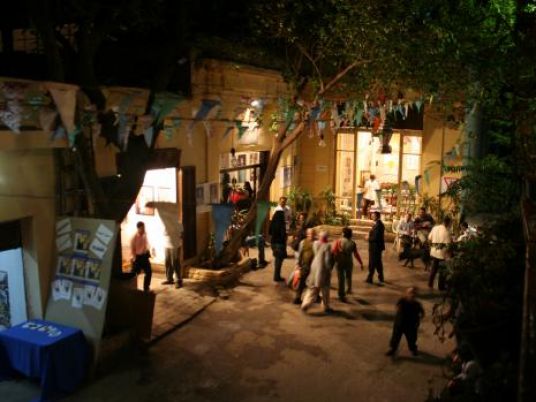 This month, Townhouse Gallery in Downtown Cairo celebrates its 15-year anniversary with three new exhibits, including pieces from reputable local artists shown in Egypt for the first time.
What started as an old paper factorn downtown was turned into a small one-floor gallery in 1999. Since then, Townhouse has transformed the area around the Champoleon Mansion and become arguably the most important landmark of Cairo's Downtown art scene, if not all of Cairo.
Despite clashes Downtown on opening night, art aficionados braved the tear gas to visit the special exhibition on Monday of last week.
Two of the exhibitions are solo shows from returning artists, Huda Lufti and Lara Baladi, who originally displayed their work together in the gallery back in 1999 and have since went on to lead successful international careers in art.
No stranger to political expression, Lutfi's show, "Cut and Paste" in the Factory Space, employs a variety of mediums to express powerful statements through repetition of images and sounds. Her work captures the struggles faced in Egyptian society during this transitional period, touching up on police brutality, military rule and political oppression, among other ideas showcased in the exhibit.
Baladi boldly portrays the sexual oppression of women in her show "Freedom is Coming" in the Rawabet Annex. The exhibit features a giant chastity belt, made of iron and leather and modeled after a 17th century French chastity belt.
On the first floor of the gallery, "Social Security" explores an experimental art residency project, the first of its kind in Egypt, to support budding Egyptian artists and culture workers. The floor has been transformed into a multi-functional space that serves as an art exhibition, artist workshop and networking platform for film makers, graphic designers and visual artists.
The artists have opened their space to the public, using it for research, production and working on collaborating projects with the goal to benefit from each other's shared experiences.
"Social Security" also aims to tackle the issue of art funding in an innovative approach by allowing artists to present their projects and receive financial support from the public directly for their work. Weekly meals will also be provided on a donation basis, the proceeds of which go into a general fund to support the artists.
The exhibition is split into three spaces. The first is occupied by a new designing collaborative, dubbed Moshtarak by its founders Ahmad Aiyad and Deanna Shaaban. The project will host a series of discussions to broaden public understanding of challenges faced in the field of design, such as architectural design, urban planning and using natural resources to better serve the local community, among other topics.
In the second room, visitors can observe Cairo-based filmmaker Odaba's progress on his first feature-length film as he develops a production team.
The last room features two artists: Architect Yazaan El-Zo'bi, who focuses on architectural heritage and fantasy, and digital artist Islam Shabana, who relays both spiritual and surreal aspects in his work.
Visitors have until 8 January 2014 to experience the exhibitions.
The Townhouse Gallery is open Saturday to Wednesday, 12pm to 9pm, and Friday 6pm to 9pm, and is located at 10 Nabrawy Street, next to the Champoleon Mansion off Champoleon Street. For further inquiries, please contact the gallery via phone at (0020) 22 576 80 86 or via email at [email protected]