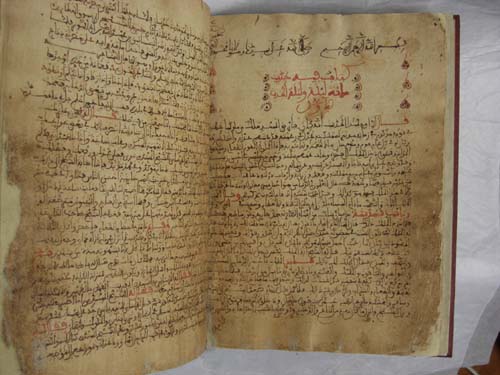 Professor of Medieval History at the University of Zagazig Amr Abdel Aziz sent a number of letters to Sharqiya governor, the Supreme Council for Culture, and the National Library of Documents, to save 183 rare manuscripts that have been poorly stored at Zagazig's Public Library.
The manuscripts according to Abdel Aziz are placed in a cupboard near the Zagazig's Public Library and are vulnerable to damage and theft.
Zagazig's Public Library is not under the tutelage of the Ministry of Culture, Abdel Aziz told Al-Masry Al-Youm.
Secretary General of the Supreme Council for Culture Mohamed Afify asked Abdel Aziz to prepare an official report about the content of the manuscripts and its condition to submit it to the Minister if Culture Gaber Asfour and transfer the manuscripts to a safe place.
Al-Masry Al-Youm had the opportunity to see the manuscripts. Some date back to the late Ayyubid era and others to the Mamluk and Ottoman eras.
Abdel Aziz said more than 17 historical manuscripts and books have been stolen from the Zagazig's Public Library.
The crime was blurred by manipulation as the employees in charge claimed the old manuscripts were damaged, according to Abdel Aziz.
Some of the stolen manuscripts belonged to Emir Omar Toson, said Abdel Aziz.
Other stolen books and manuscripts which are one of their kind in the world included a manuscript by Moroccan traveler in the Ottoman era Mohamed al-Bishi, four parts of the first edition of the Khitat Al-Maqrizi, a book by Egyptian historian under the Mamluk era Taqi Eddin al-Maqrizi, and an overview of Egypt by French physician Clot Bey, Abdel Aziz mentioned.
Abdel Aziz called for transferring the manuscripts placed at Zagazig's Public Library to Cairo Public Library or the Alexandria Bibliotheca.
Edited translation from Al-Masry Al-Youm