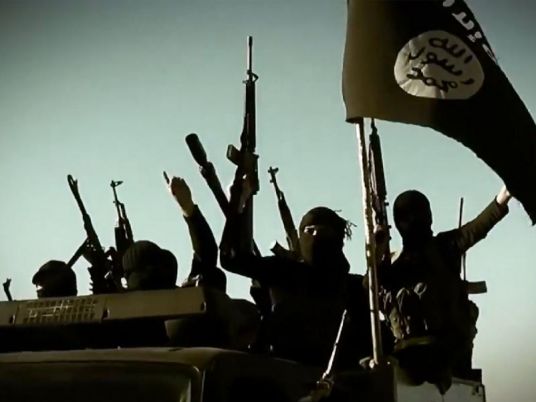 Giza Criminal Court decided on Tuesday to adjourn trial of 66 defendants, 43 of which, were arrested on charges of establishing a militant group in Upper Egypt affiliated with IS. Two women out of 23 of the defendants were accused of being the primary sponsors of the IS militant group, based in Upper Egypt.
According to the state-run newspaper of Al-Ahram, the courts judges adjourned the trial in September, and ordered the prosecution to return with more evidence and detailed reports that would warrant an arrest.
Recently, Egypt's General Prosecutor, Nabil Sadek, referred the 66 defendants, including the two women, over to criminal court on charges of financing terrorist attacks to be conducted by  IS militants, in addition to establishing and leading a militant group.
The two women have been made primary defendants for their role of financing the IS militant group, dubbed 'Walayat El Saied' [translated into Upper Egypt Province]. The groups aim was to target Copts based in Upper Egypt.
Moreover, the two ladies appointed a male leader of the group, Mostafa Ahmed, who expanded the groups geographical area to include affiliated members in other governorates such as Cairo, Giza, Kafr Al-Sheikh, Beni Suef, Minya and Aswan, according to Al-Ahram.
The prosecution's investigations revealed that the two female fugitive provided the IS militant group with the necessary capital to buy weapons and explosives for planned terrorist attacks.
In May, 29 Copts were killed in a deadly bus attack by militants who targeted their bus, while headed to a monastery located in the Egyptian desert area of Minya governorate. IS claimed responsibility for the attack.
Before the bus incident, Egypt experienced two seperate suicide attacks that targeted two churches in the Egypian cities of Alexandria and Tanta. The attacks led to the deaths of more than 44 people.
IS has released numerous threats against the Coptic community in Egypt through its affiliated militant group 'Sinai Province' and other media means such as 'Al-Nabaa', the online newspaper that published interview with 'Sinai Province' leader Abu Osama Al-Masry in which he confirmed intent to target Copts and their facilities in Egypt.