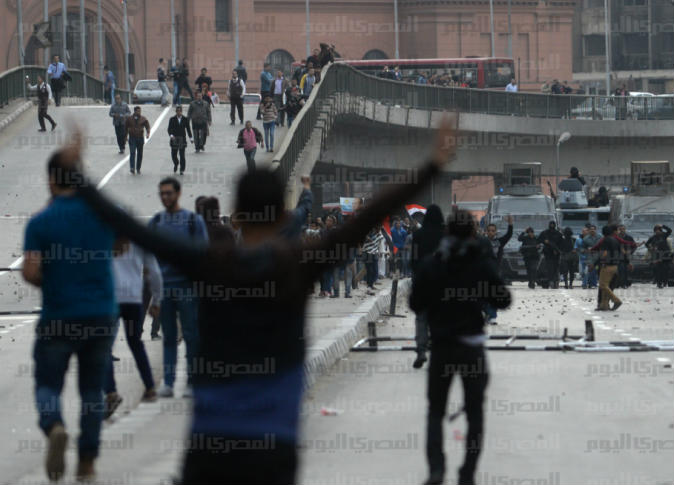 A number of activists affiliated with the 2011 uprising have approved of a recent invitation for dialogue reportedly issued by the presidency.
Al-Masry Al-Youm published a report on Monday saying that a number of activists, who rose to prominence in the political scene during the uprising against former President Hosni Mubarak, are already receiving indirect communications for dialogue with the presidency. The reported invitations come nearly two months before the fifth anniversary of the uprising, which some youth groups want to mark with protests against the government.
While welcoming the reported invitation, the activists set a number of conditions that should be met before a potential meeting.
Ziad al-Alimy, a former MP, said "dialogue with the presidency is an acceptable democratic tool but under certain conditions." According to Alimy, the youth invited to the dialogue should not be dictated unacceptable conditions, adding that the proclaimed dialogue would be held amid "an imbalance of power" among its parties.
"It is difficult for the regime to ask for dialogue with the youth while it keeps half of them in prisons, while the other half is facing jail for opinion-related cases," Al-Alimy said. "The youth need justice and freedom for all Egyptians rather than 'containment'," he stated.
A dialogue with the presidency should include the controversial protest law and the release of those detained for violating it, according to Essam al-Sharif, a member of the Free Front for Peaceful Change.
The state is required to "end enforced disappearances which have become common recently, and to confront malpractices inside police stations," he said.
Sherif al-Roubi, a senior member of the April 6 Youth Movement, voiced concern that the presidency would choose to meet with whom he called "tame youth leaderships", adding that former presidents Mohamed Morsi and Adly Mansour had held similar meetings to no avail.
Mohamed Awwad, a founder of Youth for Justice and Freedom, said the presidency is required to "convey positive messages" before the dialogue, including the release of youth from prisons.
Edited translation from Al-Masry Al-Youm