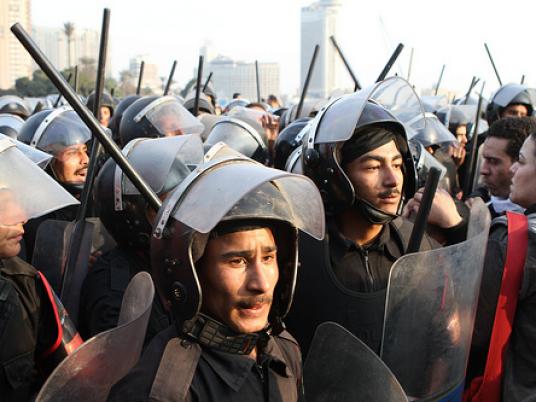 Twenty five Central Security personnel were killed early Monday in an armed attack on two vehicles carrying 27 conscripts, officials at the Interior Ministry said.
Osama Ismail, assistant interior minister for Sinai Security, told Al-Masry Al-Youm, that the attack took place at 7:15 a.m. at Sadout, between Sheikh Zuweid and Rafah.
Ismail added that attackers ordered the conscripts to get down from the vehicles before firing at them. He noted that military planes are combing the region to locate the perpetrators.
Abdel Fattah Othman, the interior minister's assistant for media and public relations, said the soldiers were heading to the Rafa camp, preparing to obtain disclaimers ending their service.
Sinai has been a stage for recurrent attacks on police and army units since the overthrow of deposed President Mohamed Morsy early July. Muslim Brotherhood critics accuse the group of orchestrating the attacks to avenge the removal of Morsy.
A security source had put the number of police officers killed in clashes with Brotherhood loyalists since Wednesday at 70.
Edited translation from Al-Masry Al-Youm