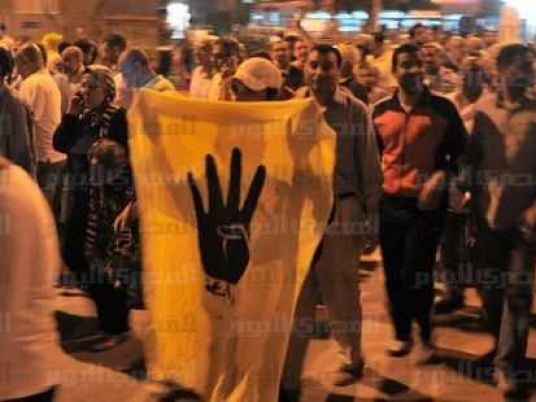 Friday demonstrations called for by the the government's Islamist opposition have so far claimed the lives of three army officers as well as three protesters, news reports and government officials have revealed.
The Health Ministry said one army officer and two civilians were killed in clashes in the working class district of Matariya during clashes between police and demonstrators.
One army officer was also shot dead by passengers of a passing-by unlicensed car in Gesr al-Suez, east of Cairo.
Meanwhile, a navy officer was killed by unknown assailants who were shooting at security from a rooftop in Shatby, Alexandria.
The Health Ministry, however, only confirmed the death of the Matariya officer and the two civilains at the same district.
The cabinet's Information and Decision Support Center said in a statement quoted by state agency MENA that security campaigns resulted in the arrest of 107 so-called "terrorists," seizing one machine gun and eight IEDs. The Interior Ministry said later in a statement that the number soared to 224.
No massive marches were reported at usually-popular protest venues, such as Cairo's Tahrir Square, as security intensified its presence prior to the protests. "Several mosques listed as gathering points by organizers remained largely empty. Small, scattered demonstrations by a few hundred protesters were quickly quashed by security forces," the Associated Press reported.
Religious institutions and media outlets allied with the government have urged citizens not to partake in the demonstrations.
"Al-Azhar calls upon Egyptians to recognize their real enemy who urges for hoisting Qurans and chanting fake slogans," according to Mohey Eddin Afify, secretary general of al-Azhar's Islamic Research Academy, who referred to the Salafi Front's call for demonstration.
Galal Murra, secretary general of the pro-regime, Salafi-led Nour Party, renewed the party's call to abstain from the protests. "Ignore the saboteurs who are seeking to ruin the country and turn it another Syria, Libya or Iraq," he said in a message to party members.
Ahmed Moussa, a TV presenter at Sada el-Balad satellite channel and an ardent supporter of President Abdel Fattah al-Sisi, asked security to kill pro-Muslim Brotherhood protesters. "I want them to be corpses, do not jail them, anybody carrying a weapon should be shot at," he told Alexandria security chief Amin Ezz Eddin who was being interviewed over the phone.