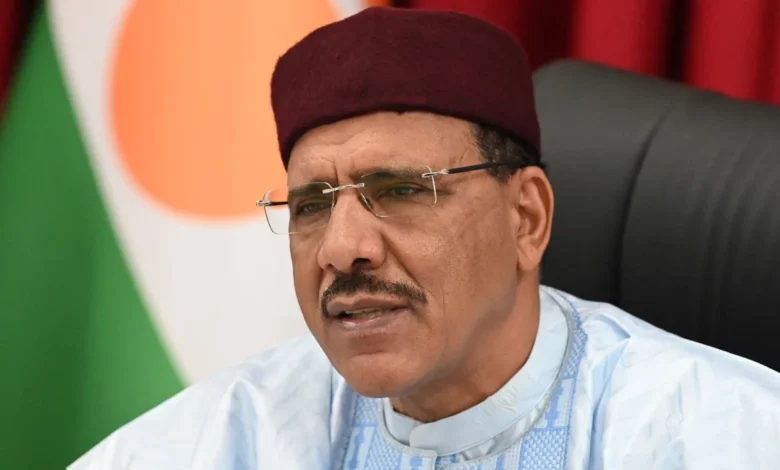 CNN
 —   Niger's President Mohamed Bazoum said Thursday he is being held hostage by the country's military as he warned in a Washington Post op-ed that the junta's power grab could have "devastating consequences" for the region, where Russian mercenaries have established a foothold.
Bazoum, who was democratically elected two years ago, has been detained by soldiers at the presidential palace in the capital Niamey since last Wednesday, when the military launched a coup that has been condemned by the United States and other Western nations and brought threats of military intervention from a bloc of West African countries.
"I write this as a hostage," Bazoum wrote in the Washington Post. "Niger is under attack from a military junta that is trying to overthrow our democracy, and I am just one of hundreds of citizens who have been arbitrarily and illegally imprisoned."
The upheaval in Niger has hurled the region – already beset by coups and militant extremism – into renewed limbo, with Western countries in an urgent bid to evacuate their citizens and diplomats.
Bazoum wrote that this "coup, launched against my government by a faction in the military on July 26, has no justification whatsoever," and could have "devastating consequences for our country, our region, and the entire world."
"The coup plotters falsely claim that they acted to protect Niger's security," he wrote. "They allege that our war against jihadist terrorists is failing and that my economic and social governance, including partnerships with the United States and Europe, has hurt our country."
Instead, Bazoum wrote, the security situation had "improved dramatically" in Niger since he came to power, by working with the partnerships the junta opposes.
Bazoum also cautioned that foreign aid makes up 40% of the national budget – and it would not be delivered if the coup succeeds.
'Determined, optimistic'
CNN has not been able to independently confirm the conditions under which Bazoum is being detained in his residence.
But the ousted leader is "very determined, very optimistic" despite being under house arrest, his former adviser Idrissa Waziri told CNN Thursday over the phone.
Waziri who is based in France told CNN that Bazoum is currently under house arrest in his residence with his wife and son, saying he's been in close contact.
"They tried to break his morale," Waziri said, claiming that Bazoum's residence is surrounded by armored military vehicles, the access gates are chained shut and the electricity supply is cut temporarily.
Waziri claimed that some 130 officials from the elected government had been arrested in recent days. He added many others are hiding from the coup organizers.
Waziri told CNN that when Bazoum decided to keep Gen. Abdourahamane Tiani as head of the presidential guard following his election, Bazoum believed Tiani would show him the same level of loyalty he'd shown his predecessor.
Tiani led the coup that toppled the Sahel nation's elected government last week.
Warning over Wagner
In the Washinton Post article, Bazoum argued that Niger's security situation is "significantly better" than that of neighboring Mali and Burkina Faso, where an Islamist insurgency has entrenched in an area where the borders of the three countries meet.
Bazoum also warned of growing Russian influence in the Sahel region.
Hundreds of contractors from Russia's Wagner mercenary group are stationed in Mali at the invitation of its military junta, which – along with Burkina Faso's military backed government – has backed the coup in Niger.
"Rather than addressing security concerns by strengthening their own capacity, they employ criminal Russian mercenaries such as the Wagner Group at the expense of their people's rights and dignity," Bazoum wrote, referring to Mali's junta.
One of the Nigerien coup leaders, Gen. Salifou Mody, visited Mali on Wednesday, according to the Mali presidency, raising fears of a potential alliance with Wagner.
"With an open invitation from the coup plotters and their regional allies, the entire central Sahel region could fall to Russian influence via the Wagner Group," Bazoum wrote.
The ousted president called on the US and the international community to "help us restore our constitutional order," adding: "Nigerien people will never forget your support at this pivotal moment in our history."
On Thursday, US President Joe Biden called for the immediate release of Bazoum in a statement commemorating Niger's Independence Day.
The US has had troops in Niger for around a decade, mostly advising and training Nigerien forces on counterterrorism efforts.
Pentagon Press Secretary Brig. Gen. Patrick Ryder told a media briefing Thursday that US forces in the West African country are continuing to work with Nigerien forces who are not "associated with this seizure of the president," to keep the US bases running.
The US Defense Department recently said there is no change to US military posture in Niger as the US embassy evacuates non-emergency personnel and family members.
CNN's Joseph Ataman and Gregory Clary contributed reporting.