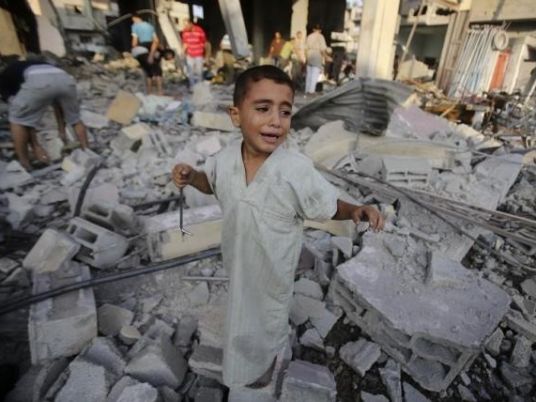 A retaliatory Israeli air strike on Hamas's military wing in the Gaza Strip wounded four policemen Friday, a Palestinian official said, following a rocket attack on the Jewish state.
The hospital official told AFP one was critically injured and the rest moderately hurt in the strike on a training facility of the Ezzedine al-Qassam Brigades, near El Bureij refugee camp in the centre of the strip.
In an attack claimed by jihadists, Gaza militants earlier fired a rocket into southern Israel, without causing casualties, the Israeli army said.
"A rocket fired from the Gaza Strip hit southern Israel," it said in a statement. "No injuries reported."
Israeli media said at least one other rocket was fired but fell short and landed in the Palestinian territory.
The air force "targeted a Hamas terror infrastructure in the central Gaza Strip. A direct hit was confirmed," Israel's military said.
Hamas is the de factor power in Gaza and Israel formally holds it responsible for any attack launched from the coastal territory.
"Hamas must fulfill its responsibilities or face the consequences," the army statement said.
Earlier, a previously unheard of group calling itself "The Grandsons of the Companions of the Prophet" claimed responsibility for the rocket fire.
The rocket fire was "the first response by Salafist jihadists to Jewish attacks against Al-Aqsa", it said.
Last month, Israeli police entered Jerusalem's Al-Aqsa mosque, one of Islam's holiest sites, as they clashed with Palestinians angered by Jews' being granted access to the compound on an annual day of Jewish mourning.
The mosque compound, one of the most volatile sites in the Middle East, is the most sacred site in Judaism and Islam's third holiest, after Mecca and Medina.
In Gaza, Salafists have made no secret of their disdain for Hamas over its observance of a tacit ceasefire with Israel and failure to implement Islamic law.
Last summer, Israel went to war against Hamas with the aim of stamping out cross-border rocket and mortar attacks.
The 50-day conflict killed about 2,200 Palestinians, most of them civilians, and 73 on the Israeli side, mostly soldiers.