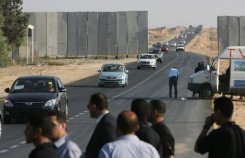 Egypt's decision to shut its border with the Gaza Strip has stranded thousands of Palestinians on the Egyptian side of the border while around a thousand people in Gaza are desperate to get out for medical treatment in Egypt, officials in Gaza say.
Egypt closed Rafah, the only crossing point between Egypt and the Palestinian territory, on Oct. 25 after attacks by Islamist militants which killed 33 Egyptian soldiers, an assault that prompted Cairo to declare a state of emergency in the area.
It is also pressing ahead with a one-km (0.6-mile) buffer zone with Gaza, partly to clamp down on the smuggling of arms and other goods across the border, a business that helps finance Hamas, the Islamist group that dominates the enclave.
One of the unintended consequences of the security clampdown is that some 6,000 Palestinians are now stuck in Egypt or third countries waiting to get back into Gaza.
Another 1,000 people suffering from medical problems including kidney failure, cancer and blood-related diseases seek urgent treatment or further diagnosis in Egypt, said Ashraf al-Qidra, a spokesman for the Gaza health ministry.
"If the closure continues, their health conditions will deteriorate and we may start to witness some deaths," he said.
Israel often takes in urgent cases from Gaza, but Qidra said people are increasingly reluctant to go to Israel because they fear they will be interrogated or asked to become an informant for the government about events in Gaza.
Egypt is keen to regain full control in Sinai, where Ansar Bayt al-Maqdis, a militant group allied to Islamic State, is gaining influence, but also to put pressure on Hamas, which has long had ties to the Muslim Brotherhood ousted from power in July 2013.
Cairo has destroyed scores of tunnels running from Gaza into Egypt, some up to a kilometre long, that are used to shift everything from weapons to medical equipment, building supplies and consumer goods. All the trade is taxed by Hamas, providing a steady income.
Analysts said while Egypt's moves might well hurt Hamas in the short term, it would not resolve problems in Sinai.
"The security crackdown in Sinai may complicate things for Hamas and other factions in Gaza who bring in weapons to fight Israel," said Hamza Abu Shanab, an expert in Islamist groups.
"It may complicate it, but it will not stop it," he said. "The army's crackdown is fuelling hatred among residents of Sinai. Unfortunately, the impact is being felt in Gaza, whose people are paying the price for an internal struggle."
Eyad al-Bozom, a spokesman for the Gaza interior ministry run by officials loyal to Hamas, said: "Internal incidents in Egypt are an internal Egyptian affair that has nothing to do with Gaza. It is illogical to make our people pay the price for these incidents or be the victim of Egyptian security measures."