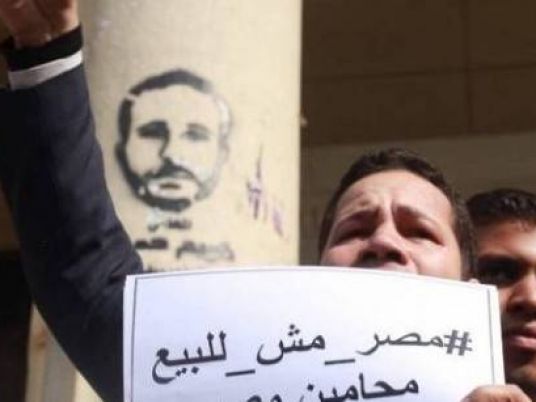 East Alexandria Prosecution office referred seven lawyers to trial Sunday on charges of demonstrating without a permit and gathering in the city's court yard, in protest of the border maritime demarcation agreement and the transfer of the Red Sea islands Tiran and Sanafir to Saudi Arabia.
The head of the Bar Association, Sameh Ashour, decided to form a defense team for the seven lawyers being tried for organizing a protest rally in support of maintaining Egyptian sovereignty over the two islands instead of relegating them to Saudi Arabia.
Ashour said in a statement that the syndicate is committed to defending all of its members accused in political cases.
"Our position was clear from the beginning and has not changed in the case of Tiran and Sanafir, and we will defend all the arrested suspects, and foremost our colleagues lawyers, because freedom of opinion and expression is not a punishable crime for any citizen," he added.
Over 300 fellow lawyers announced solidarity with the seven lawyers brought before the trial and confirmed their full support and defense against "this unfairness and injustice" to which their colleagues have been subjected to, while additionally seeking to protect the rights and freedoms of lawyers and assuring their safety.
On Saturday, Giza court upheld a five-year imprisonment sentence against 2 defendants convicted on the same charges.
President Abdel Fattah al-Sisi ratified the agreement last month, after parliament approval. The Red Sea maritime demarcation deal was signed between Egypt and Saudi Arabia in April 2016, during Saudi King Salman bin Abdulaziz's visit to Egypt.
According to the 2016 agreement, the two islands were deemed to be within Saudi territorial waters, in recognition of historical claims from Saudi Arabia. The Supreme Administrative Court, however, nullified this agreement on the basis that there was insufficient evidence to support the Saudi allegations.
The agreement provoked extensive criticism against the government in April and people took to the streets in protest of the decision, which was followed by a security crackdown. In a speech, President Al-Sisi called on the Egyptian people to not to discuss the matter anymore.
Edited translation from Al-Masry Al-Youm