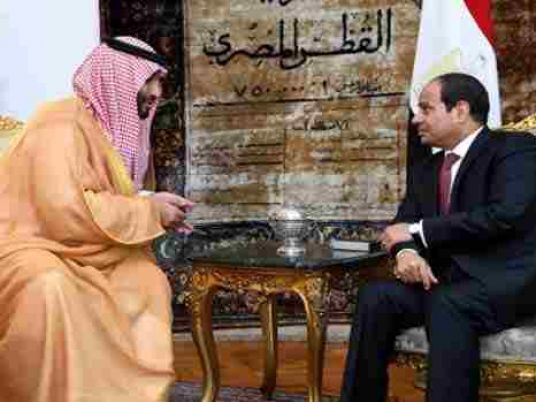 President Abdel Fattah Al-Sisi arrived in Saudi Arabia on Sunday, upon invitation from King Salman bin Abdelaziz, against the backdrop of months of undeclared disputes between the two countries.
Salman invited the President in the hopes of reaching an accord on matters that have caused strife between the two nations, such as the ongoing war in Syria and the disputed Red Sea islands demarcation deal.
According to a statement issued by the presidency, the leaders are expected to tackle fostering bilateral relations and other regional and international issues, such as counter-terrorism.
In this report, Egypt Independent will highlight the issues that recently sparked controversy between Egypt and Saudi Arabia, as these topics are expected to be on the main agenda for both Sisi and Salman
The 6-year war in Syria
In October 2016, Egypt voted for a Russian resolution put forward in the United Nations Security Council which called on the international community to discriminate between modern Syrian opposition groups and terrorist groups, such as Fatah el-Sham.
Since Sisi took power, Egypt's stance is to support the Syrian national army against what the Egyptian regime described as "terrorist groups". Contrary to this, Saudi Arabia supports the Syrian opposition. President Bashar al-Assad's regime has continually been accused of war crimes against civilians, not to mention it is backed by the Kingdom's regional rival, Shi'a Iran.
Egypt's vote in favor of the Russian resolution angered the Saudi and Qatari representatives in the UN Security Council. The Saudi representative described Egypt's stance as "painful".
Shortly after, state-run Saudi Aramco suspended its oil shipments to Egypt without citing clear reasons. These shipments were resumed six months later.
The war in Yemen
In March 2015, Saudi Arabia launched airstrikes against Yemen as part of a Saudi-led military coalition, with forces from other Arab Gulf countries, to support the legitimacy of the current Yemeni President Abdel Hadi Mansour against insurgents who are backed by Iran — once again, this is most likely a large influence on the Kingdom's actions.
Since the beginning of these military operations, Egypt has not declared a clear stance on any possible military participation; rather, Egypt has preferred to intervene only in the hopes of launching negations to reach a political settlement in Yemen.
Saudi Arabia's continued military operations in Yemen represent an indirect refusal to Egypt's insistence on a political settlement.
Unrest in Libya
Directly following the removal of Libya's former leader Muammar Qadhafi, who was killed during the February Uprising in 2011, Egypt worked hard to end its western neighbor's military conflict which could negatively impact the state's national security.
The Islamic State has a substantial presence in Libya, alongside other militant groups, which has pushed the Egyptian administrative to support the national army in Libya against all insurgents. For Egypt, it is of the utmost necessity to eliminate all militant presence in Libya.
Saudi Arabia, on the other hand, has a different strategy: specifically confronting the spread of Iranian fighters in Libya and Syria that followed the Arab Uprisings, rather than combating militant groups in their entirety and terrorism in all its forms.
Fears of an Egyptian-Iranian convergence
On the diplomatic front, there is a remarkable calm between Egypt and Iran, especially considering the strife that the Shi'a-Sunni divide has caused around the Middle East.
Saudi Arabia aspires for its Sunni ally, Egypt, to help confront the threats Iran has issued against some Arab Gulf countries.
Though Egypt has not official declared its intentions to restore relations with Iran, which deteriorated after former supreme leader Ruhollah Khomeini came to power with his rather extremist brand of Islam in 1979, Saudi Arabia still fears the potential convergence between Egypt and Iran due to the current calm that dominates relations between both countries.
Egypt fears Saudi sponsorship of GERD
At the end of 2016, experts said relations between Egypt and Saudi Arabia moved from "the disputes stage" to one of clear tension when former Saudi health minister Ahmad al-Khatib (now appointed head of the newly created Commission for Recreation and Culture) visited the Grand Ethiopian Renaissance Dam — the construction of which may badly affect Egypt's Nile watershare.
The visit was described by several Egyptian media outlets as a kind of "political stalemate" on the part of Saudi Arabia in response to Egypt's stance on Syria.
Sovereignty of Red Sea islands
The matter of sovereignty over Tiran and Sanafir islands has bloomed into the main point of contention between Egypt and Saudi Arabia.
In April 2016, during King Salman's official visit to Egypt, he and Sisi signed a deal stipulating that the sovereignty of Tiran and Sanafir islands would be transferred to Saudi Arabia.
The agreement was legally invalidated by verdicts from Egypt's higher courts, including the State Council and the Higher Constitutional Court; these verdicts cannot be appealed according to Egypt's 2014 Constitution but that hasn't stopped lawyers from filing appeals and lawsuits on both sides.
The case of the two islands is expected to occupy a major part of the leaders' upcoming discussions.
The media war quiets down
These quarrels have taken the media by storm, with political figures, intellectuals and the press from both countries engaging in a heated exchange that didn't die down until March when Sisi and Salman seemingly made amends at the Arab Summit in Jordan.
Following the UN Security Council Saudi representative's statements, Egyptian media accused the Kingdom of trying to force Egypt to adopt a stance that supports terrorism. This only escalated when Aramco suspended the delivery of its October oil shipment, reaching unprecedented levels when the Saudi ambassador left Egypt to inform his government about updates to Egypt-Saudi relations.
It remains to be seen how Sisi's trip to the Kingdom will pan out and whether the two countries' bilateral developments will appease their peoples.