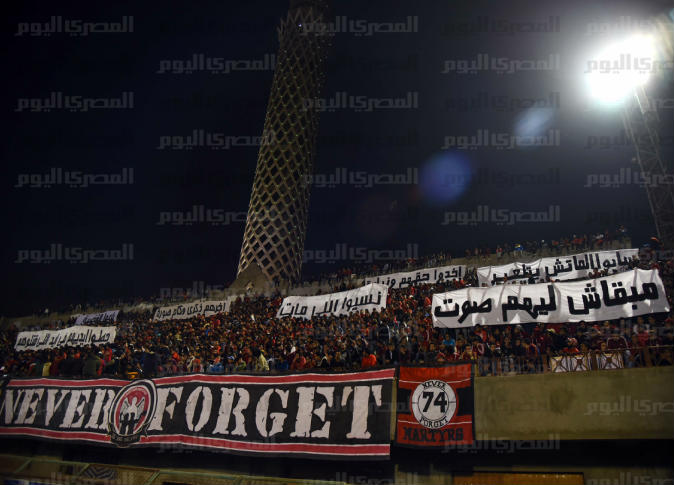 Egypt's prosecutor general Nabil Sadek ordered an investigation into clashes that broke out between security forces and fans from the Ahly football club during a match between Ahly SC and Gabon's CF Mounana in Cairo stadium on Tuesday.
According to Al-Masry Al-Youm, security forces attempted to arrest a dozen of spectators after they moved into the upper deck of the stadium, a prohibited area, which consequently sparked a fight between the fans and the police. Fans reportedly set two police vehicles on fire, lit firecrackers, and chanted against the police.
Lawyer Mohamed Hafez said on Facebook on Friday that seven members of the Ultras Ahlawy are still being held in an unidentified location following their arrest.
Egypt's prosecution said in a statement that the clashes were a matter of "national security," but asserted that the incident has nothing to do with the Ahly Club.
The Ultras' official Facebook Page released a statement following the clashes on Wednesday claiming that those detained were "merely arrested because they are well-known," adding that their whereabouts are not known.
"It makes no sense that Ahly fans would be the ones to create such a crisis after we have been determined to make it back to the games for over six years," the statement read, referring to a ban on crowds attending football games following riots in Port Said in 2012.
"If some irresponsible people participated in this transgression we apologize, but the real Ahly fans are the ones who wanted to come back."
Ali Darwish, head of the Cairo Stadium Authority, said in a media statement on Thursday that the clashes have caused LE650,000 in property damage to the stadium.
"The incident reveals the truth about these political groups, which is that they run and are funded by forces of evil that are hostile to the state," Egypt's Parliament Youth and Sports Committee said on Wednesday. However, Ultras Ahlawy insisted that it did not want the issue to be "used in any political way."
Since 2012, football fans have been banned from attending domestic league games after over 70 Ahly fans died in clashes between fans at the Port Said Stadium while security forces reportedly looked on without intervening. The ban was partially lifted in 2015, but soon reimposed after 20 Zamalek fans died in clashes that erupted between police and crowds lined up to enter a match against the Enppi club.
The Ahly Club stated following Tuesday's incident that violations by the isolated group are undermining state and management efforts to assist in the return of the public's attendance to football games.