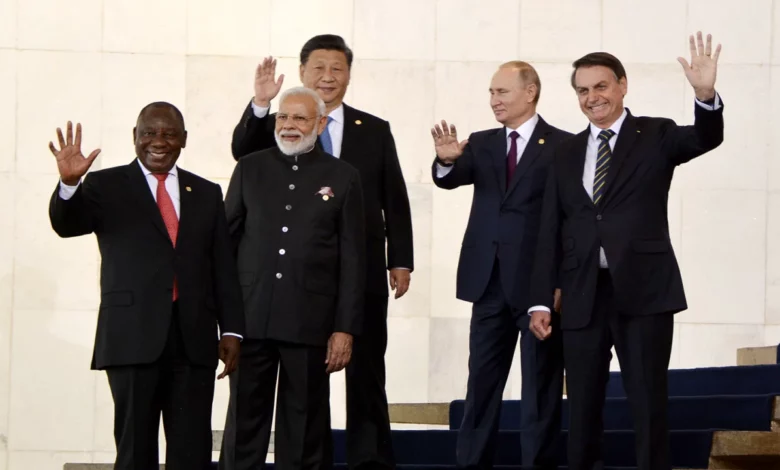 CNN
 —  Members of the BRICS economic group of major emerging economies are meeting this week in South Africa for a summit that could determine the future of the bloc – and how hard it pushes back against a world order it sees as unfairly dominated by the West.
The group of Brazil, Russia, India, China and South Africa has never been more prominent on the world stage. But the BRICS themselves are complicated.
Russia's leader can't attend the summit because host country South Africa would be obliged to arrest him for alleged war crimes. Two other members, India and China, have a simmering border conflict. And while Beijing is locked in a rivalry with the United States, New Delhi has close ties with Washington.
It's not the happiest of families. But nonetheless that family is now entertaining formal bids from nearly two dozen countries to join their bloc of major emerging economies.
Discussions around adding new members are expected to figure high on the agenda of the three-day summit beginning Tuesday, where BRICS leaders – with the exception of Russia's Vladimir Putin – will gather in-person for the first time since the pandemic.
Putin, who has an International Criminal Court warrant out for his arrest linked to his brutal invasion of Ukraine, will attend virtually.
South African President Cyril Ramaphosa on Sunday threw his support behind BRICS expansion, saying a larger body would "represent a diverse group of nations" that share a "common desire to have a more balanced global order" in a "increasingly complex and fractured" world.
At stake in decisions around expanding is the direction and identity of the group, whose members aim for more say in an international system they see as favoring the West and Group of Seven (G7) nations, despite a shift in who dominates the global economy over recent decades.
The bloc risks becoming more pointedly geopolitical in its bid to rebalance global power, analysts say, especially as China and Russia seek to bring it on side against rising tensions with the West – something its expansion could facilitate.
Speaking at a news conference ahead of the summit last week, China's envoy in South Africa said more and more countries hoped to join BRICS to "safeguard their legitimate interests."
"In the face of some countries wielding the 'big stick' of unilateral sanctions and engaging in long-arm jurisdiction, the BRICS countries insist on equal dialogue and consultation," Ambassador Chen Xiaodong said, using Beijing's typical language to criticize what it sees as US policy.
The issue of expansion may be "the association's first stress test in its near decade-and-a-half of existence," according to Bhaso Ndzendze, an associate professor of politics and international relations at the University of Johannesburg.
Adding members "would expand the group's global presence" and increase buy-in for its agenda to counter Western political dominance, he said.
But there are differences in opinion on whether to expand, and "certainly not all (members) would support entry by the same countries."
Joining the club
Whether Putin, China's Xi Jinping, India's Narendra Modi, Brazil's Luiz Inacio Lula da Silva, and their host, South Africa's Cyril Ramaphosa, decide to add to their bloc – and how they choose those potential members – will have significant global implications, analysts say.
An expansion would only be the second in the history of the group, which focuses on economic development and increasing its members' voice in global forums.
Built off a term originally coined by former Goldman Sachs economist Jim O'Neill to describe investment opportunities in key emerging markets, the group has persisted despite deep differences in political and economic systems between its members.
It held its first summit in 2009 with four members and then added South Africa the following year. The BRICS launched its New Development Bank in 2015.
Now, 22 countries have formally expressed an interest in joining the bloc, while that many have also made informal inquiries, South African ambassador to BRICS Anil Sooklal said last month.
Those who formally applied include Argentina, Mexico, Iran, Saudi Arabia, the United Arab Emirates, Egypt, Nigeria and Bangladesh, South African officials have said.
The countries have a range of reasons for applying, from interest in specific economic initiatives such as transitioning to local currencies to "challenging the US," according to Mihaela Papa, a senior fellow in the Rising Power Alliances Project at Tufts University in the US.
"Then there are those who want easier access to China or other BRICS countries or more control during major power tensions and uncertainty," she said, adding that for members, "deciding on expansion means deciding on the future direction of the group."
New joiners with economic clout could catalyze the group's ability to reshape or create alternatives to existing global institutions of power.
Choosing to include countries that are openly antagonistic toward the West, like Iran, could swing it further toward becoming an anti-Western bloc, experts say.
Adding new members is likely to have at least some positive knock-on effects for the group's most powerful member, China, especially as Xi tries to position his country as a leader in overhauling a US-led system he sees as bent on constraining his country's rise.
"The broader its members, the stronger they can claim a collective voice, and the more China as the largest economy will claim leadership and representation of the developing world," said Yun Sun, director of the China Program at the Stimson Center think tank in Washington.
Countries' wide interest in joining BRICS is also a boost for Putin – who remains welcome in the bloc despite being seen as a pariah and war criminal in the West. It also points to a widening gap between the priorities of those countries lining up for BRICS and the wealthy Western nations that have united against him in support of Ukraine, analysts say.
Bangalore-based analyst Manoj Kewalramani pointed to a view across the developing world. "There is a lot of frustration that Russia initiated the war, but there is (also) this acknowledgment that you need two hands to clap and there are things which NATO and the United States did" to spark or prolong the conflict, he said.
When it comes to these countries' interest in seeing the war end, "they will see that isolating Russia doesn't help them," said Kewalramani, who heads Indo-Pacific studies at the Takshashila Institution research center.
Countries instead are looking at BRICS as a means to deal with challenges like climate change and limited access to capital and technology, and are deciding to move toward it as "the West seems to be closing in on itself," he said.
Dividing lines
But even as Xi, Modi, Lula, Ramaphosa and a beamed-in Putin gather in Johannesburg for talks, divisions within the existing group of five may be a barrier to any breakthrough decisions on the issue.
Leaders are expected to review criteria for how to select new members – perhaps rather than name who gets to join the club.
The Russian leader's virtual presence will be the most obvious indication of awkwardness within the group – whose members include those who have condemned Russia's invasion of Ukraine at the United Nations, like Brazil, and those who have abstained – China, South Africa and India.
But Moscow's influence in Africa was underscored as video emerged showing Yevgeny Prigozhin, head of the mercenary group Wagner who launched an abortive mutiny against the Kremlin's military leadership in June, claiming to be in Africa and talking about making Russia greater on all continents.
When it comes to BRICS expansion, each of the countries have their own reasons to be circumspect about who to let in, since the issue was raised during South Africa's last chairship in 2018 and then countries decided to explore it further after last year's virtual summit hosted by China.
For India, which has a border dispute with China and finds itself increasingly drawn to the US over their shared concerns about an assertive Beijing, a strident, anti-US bloc would not be desirable, analysts say.
"India finds itself in a difficult spot, because the group's identity is shifting, and it does not want that shift," said Kewalramani, who noted that New Delhi is seen as having slowed the introduction of new members last year by calling first for the creation of criteria.
"But how long and to what extent and to what effect (India can guide the bloc in certain directions) … is not going to be easy, because China is the biggest actor and it's aligned with Russia much more," he said.
An expansion, instead of making the group more potent, could also make it "more unwieldy and ineffective" with more contrasting positions between members, he added.
Brazil and South Africa, too, could be open to potential expansion, but would be "more cautious in welcoming clearly anti-US countries" to the bloc, according to Rubens Duarte, coordinator of LABMUNDO, a Brazil-based research center for international relations.
Such a shift might not be what the group seeks, however, he said, and having more members could help bring more diversity of perspective into the discussion on global issues.
But if BRICS does decide to expand and then steps up its global role, this could push larger change that impacts the international influence of Europe and the US, he said.
"The more BRICS becomes active, the more other countries will lose power," he said.
CNN's Nectar Gan contributed reporting.