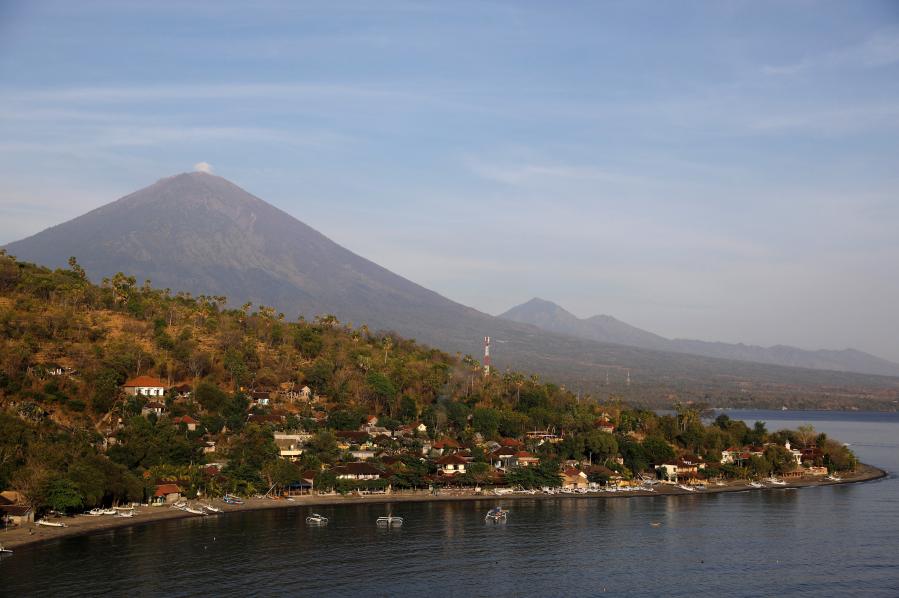 A Balinese town once bustling with holidaymakers has almost emptied of tourists after warnings that nearby Mount Agung could erupt at any time – a snapshot of the growing cost the rumbling volcano poses to Indonesia's economy.
Business has slumped at many hotels, dive resorts and restaurants in towns around the volcano since authorities issue the highest alert level for Mount Agung last month.
An owner of a dive center in Amed, around 15 km (9 miles) from the volcano and just outside the official "danger zone", said many of her guests had canceled.
"If (the situation) lasts for nine months or more… then we have no choice but to close down because we will have no money left to operate and pay the staff," said Helene Rabate, a Spaniard who runs the center.
Cafes and restaurants were largely empty and few visitors were seen at the usually crowded dive centers of this seaside town.
The last time Agung erupted was in 1963, when more than 1,000 people were killed. Since then, tourism has transformed towns like Amed from sleepy fishing and agricultural villages.
Restaurant owner Wayan Widarti has seen a dramatic drop in customers.
"It could be worse than when the Bali bombing happened because there's uncertainty on when (the eruption) is going to happen and how long we wait," she said, referring to the 2002 nightclub bombing that killed 202 people and prompted a slump in visitors to the holiday island.
Bali, famous for its surf, beaches and temples, attracted nearly 5 million visitors last year – more than half the total number of foreign tourists to Indonesia.
Tourism, a cornerstone of Bali's economy, is Indonesia's fourth-biggest earner of foreign currency after natural resources like coal and palm oil.
Indonesian policy makers have been seeking to boost an economy whose growth rate has been stuck at around 5 percent for the last few years, so any protracted damage to tourism will be particularly unwelcome.
Indonesian officials have said Bali remains safe for tourism, but there have been cancellations even in areas further away from the volcano amid concerns that ash clouds could disrupt air connections.
Some tourists are still in the area at a safe distance from the volcano.
"We plan to… just follow security instructions… and take a fast boat to escape if there is an eruption," said Arlin Shiu, a woman from Hong Kong who was traveling with a friend.
Disaster management authorities have imposed an exclusion zone of up to 12 km, prompting more than 140,000 residents to flee to neighboring villages.
"For people who live in safe zones, there is no reason to evacuate," Bali governor I Made Mangku Pastika said, adding that makeshift evacuation centers were straining under the weight of thousands of extra evacuees.