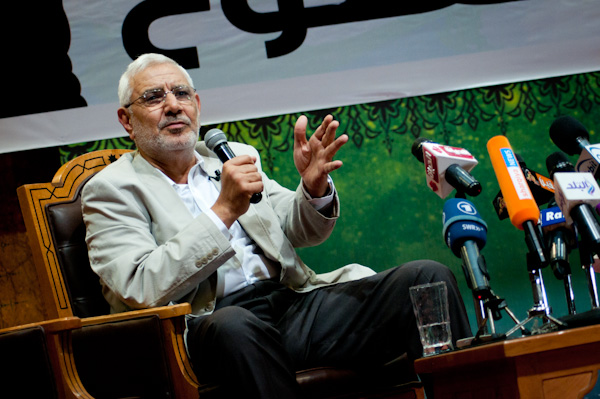 The office of former presidential runner Abdel Moneim Abouel Fotouh has accused security agents of torturing his private driver with the use of electric shocks.
"Mostafa Abdel Ghani was released yesterday (Monday) after he had been kidnapped by an unknown security authority," a statement by Abouel Fotouh's office said.
"The driver was subjected to severe torture during his kidnapping, including electric shocks to sensitive parts of his body, causing him to lose control of speech."
Abouel Fotouh, who defected from the Muslim Brotherhood in 2011 and founded the Misr al-Qawia Party in 2012, said on Twitter that his driver was taken from outside his (Abouel Fotouh's) residence and detained for 36 hours.
"The forced disappearance adopted by some Egyptian security bodies is gangster style, not representative of statesmen who abide by the Constitution and laws that protect citizens' safety and freedom," he said.
The reason behind the arrest of the driver is unknown, but some observers speculate it was a slap on Abouel Fotouh's hand for critical remarks he recently made against the government of President Abdel Fattah al-Sisi.
A lawyer in Alexandria filed a petition against Abouel Fotouh last month, accusing him of instigating to overthrow the government, as well as insulting President Sisi. The petition came a few days after Abouel Fotouh had an interview with BBC Arabic where he urged President al-Sisi to hold early presidential elections to avoid "chaos", accusing the president of political and economic mismanagement.