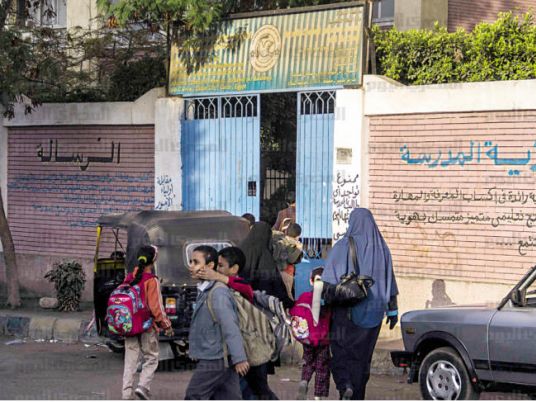 Several schools across Egypt witnessed attacks and accidents on Wednesday leaving many students, teachers and parents injured.
In Daqahliya, a student's parent at Sidi Abdel Qader preparatory school attacked his son's teacher with a knife after his son was expelled from class for being too busy with a mobile phone. The teacher was injured in the hand and the parent escaped. A police report was filed investigations are underway.
Eyewitnesses said the teacher had expelled the student and asked him for bring his parents. On the following day, the father came to insult the teacher and the incident developed to fighting, when the father stabbed the teacher.
In Fayyoum, a female worker and student suffered bruises as part of the ceiling of a classroom and the corridor at a privately-owned school fell on them. The worker was transferred to Fayyoum hospital for treatment and the prosecution is now investigating.
All students were allowed to leave before the end of the school day fearing the collapse of other parts of the ceiling.
Mahmoud Abul Gheit, deputy education minister of the governorate, instructed an engineering office to inspect the school and draft a technical report on it.
In Beni Suef, Shaaban Okasha deputy minister referred an Arabic teacher to an administrative job for beating a student for saying that his mate told him 28 November will witness a counter-revolution.
In Qena, security services are making efforts to arrest a teacher who mistakenly shot and injured a 10-year old student.
Edited translation from Al-Masry Al-Youm