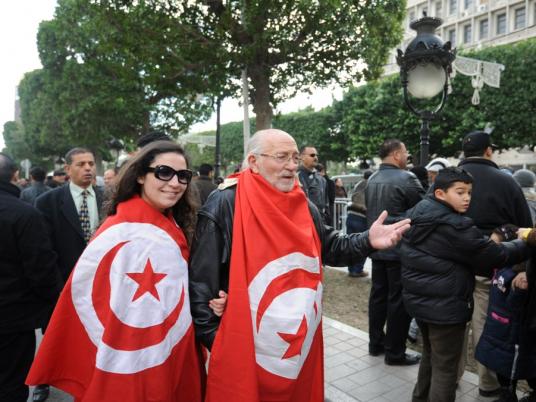 Zina Amri, 45, has worked as a consultant for microcredit business ventures in poor French neighborhoods and for general business development in several sub-Saharan African countries.
Now, she is shifting her focus to the land she left at age 4: Tunisia, where the Arab uprisings against authoritarianism began nearly two years ago.
Just an hour from Tunisia by plane, France is home to more than 625,000 Tunisians. After watching from the sidelines as the uprising ousted the country's leader of more than two decades, Zine al-Abidine Ben Ali, Tunisians like Amri now feel compelled to contribute to the Arab Spring's next phase — the establishment of sustainable democracies.
Historically, the Tunisian diaspora's most notable contribution to the homeland came in the form of remittances, says Ibtihel Bouchoucha, a Paris-based statistician and demographer researching Tunisian migration. Further participation in the development of Tunisia was limited, Bouchoucha explains, due to "administrative difficulties."
Tunisians in France are now forming a well-organized grassroots movement to economically and politically empower Tunisians in the homeland.
Financing development
In her Paris apartment, Amri sat at her computer one evening last summer reviewing notes for a trip to Benin, where she had been invited to help launch a women-run agricultural cooperative.
She explains her newfound role in financing development projects in Tunisia.
"I was in front of the TV night and day. I stopped working," she says about the revolutionary period that began in December 2010.
A year earlier, when Ben Ali was still in power, Amri wanted to use her expertise in grant writing and business development for Tunisia, but her efforts to set up shop were hindered by official roadblocks.
Amri wanted to use space at the headquarters of an organization for Tunisians in France, but it was tied to the Ben Ali regime. She sought to use the space weekly to give free advice to Tunisians interested in starting businesses.
Her aim was twofold: Generate wealth and employment in Tunisia, as well as counter the brain drain.
"They gave me many excuses — not available, not possible this day," Amri says, "but I never stopped."
She recalls being told: "We don't want to hear from you anymore. You are not allowed to come here anymore."
Fortunately, she says, the revolution began three weeks after they informed her that she was "persona non grata."
Two months after Ben Ali's fall, Amri was able to offer her business consulting services for one hour a week to Tunisians in Paris. She linked up with the Association of Tunisians in France for workspace, allowing her to comfortably receive large numbers of aspiring entrepreneurs.
Eventually, Amri focused her efforts on connecting development funds with associations of the diaspora community in France that had their eyes set on Tunisia.
Through her efforts, six projects have now been granted up to 300,000 euros in funding from the French government.
One of these projects seeks to empower rural women in Sidi Bouzid, where 26-year-old Mohamed Bouazizi set himself aflame, igniting a popular movement that would shake the region in unprecedented ways.
Empowering women
Mohamed Naceur began working with Amri when he expressed interest in helping poor Tunisian women. Naceur, 54, is well aware of the opportunity for action brought about by Ben Ali's ouster.
In 1991, he was jailed and tortured for almost 40 days for his work as an education union leader in Sidi Bouzid. The following year, hours before being sentenced to nine months in prison, Naceur, with his family, flew to France, where he was granted political asylum.
"After 14 January, the voice returned to the people," Naceur says, remembering the day Ben Ali fled to Saudi Arabia.
"For all those martyrs who fought, we owe it to them," he says. "They started it. We must continue it."
Naceur is the leader of the newly formed Two Shores Association, which represents Tunisians on both sides of the Mediterranean. Although the association is headquartered in Paris, Naceur, seated next to his 29-year-old son, Houdhaifa, explains his work via Skype from Tunisia.
"It's normal for us on the other shore," Naceur says of Tunisians living in France, "to support our brothers in Tunisia."
There, Naceur's group disbursed school supplies and equipped a high school with dorms and a heating system. Each student in the dorms received a blanket, "just in time for winter," he says.
The group also arranged for specialized surgeons to treat Tunisians who had suffered complications from injuries sustained during the revolution, and started a drive to get 100 ambulances to the country.
The association's current undertaking — a more long-term project — is a business plan to help rural women in Sidi Bouzid raise veal for local consumption and, more importantly, enjoy a steady income.
Naceur's son explains: "There is a lack of red meat. But also, it was important to do something in the Sidi Bouzid region, where it all started. It's one of the poorest areas in Tunisia."
With the plan, 20 women would be selected to receive, care for and sell calves from France. They would receive support from the association initially, but eventually become self-sufficient, while the number of participants would increase over time.
"In our society, in the rural region, women work the field, cook, care for children, care for animals, care for the home, and don't have a single dinar to buy candy," Naceur explains.
Amri, who developed the business plan with Naceur, is also passionate about economically empowering Tunisian women.
"If a woman doesn't have to wait for her husband or for welfare to have something to eat or pay debt, she can feel more proud of herself," Amri says. "And being proud gives her the moral authority to say, 'No, I don't agree with this,' 'I don't want my daughter to marry at 17,' 'I want my son to continue school,' 'I want to buy an armchair, so I will.'
"It's a question of dignity," she says.
Civic participation
Some of those now focused on Tunisian development are only just starting their professional lives.
Two days after the fall of Ben Ali, a small group of 20-something Tunisians in Paris felt that a once-in-a-lifetime opportunity had presented itself.
After a Skype conference call involving about 10 Tunisians from the US to Japan, the group decided to create a manifesto in which they dedicated their skills to the development of the new Tunisia. Pacte Tunisien was born.
The manifesto calls for preserving freedom by fighting extremism, recognizing Tunisia as a pluralist country, and ensuring equality of opportunity for all Tunisians, among other goals.
The manifesto went online and in one month had some 4,000 signatures, says Sami Ben Hassine, the 29-year-old computer engineer who is president of the group. Today, Pacte Tunisien has more than 7,400 Tunisian signatures, most from France and Tunisia.
The group's first major undertaking was to recruit and train monitors for the approaching constituent assembly elections, for which some 1,000 volunteers signed up.
Adnene Bessaies, a 27-year-old information technology consultant, was one of those selected for the task.
As a child, Bessaies remembers, two family members spent substantial amounts of time imprisoned for political activity. Ben Ali's fall resonated in a very personal way.
"I really felt that it was the beginning of a big change," he says.
Of his role as an election monitor and subsequent involvement in the Pacte, Bessaies says, "They were actions — not just words or flyers or Facebook messages — something tangible."
After observing elections in France, Pacte Tunisien started to implement projects in Tunisia. The group raised funds through a comedy act to give books to schoolchildren and build a library in two schools, always targeting poor areas.
The group started Souti, or "my voice," to allow Tunisians to interact with the constitution-writing assembly's members. Questions that received video responses from elected officials include: "Do you support the inclusion of a section that stipulates media independence in the Tunisian Constitution?"
This type of transparent citizen-leader interaction was unheard of under Ben Ali.
The group is particularly proud of its Speak Out Tunisia project. After raising more than US$20,000 and vetting some 150 applications, the Pacte held two citizen journalism training sessions for 33 Tunisians from across the country.
Pacte organizer Ines Henchiri, a 28-year-old IT consultant, remembers feeling particularly moved when she saw participants engaged in training.
"It was very emotional," Henchiri says.
Thus far, development-minded Tunisians in France have felt welcome in Tunisia.
Bouchoucha says Tunisians in Tunisia do not really know about Tunisians abroad.
"Now they discover what they have outside, and they are proud of this," says Bouchoucha.
She says the Tunisian government is too consumed with matters like poverty and politics to devise policies to deal with the Tunisian diaspora.
Houdhaifa, Naceur's son, who is always aware of people like his father who suffered under the Ben Ali regime, has a message for the new government.
"The only reparation the government can offer … is to just let them act," he says. "Let them do something for the country freely."